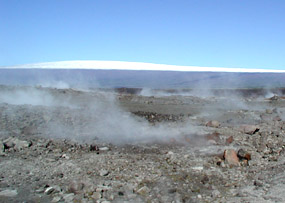 Kilauea and Mauna Loa volcanoes are the dominant features of the park. Surrounded by recent lava flow materials and unique endemic plant communities, these are dynamic landforms where new lava flows can drastically change the landscape. Indeed, recent eruptions in the Mauna Ulu vicinity have covered many acres with lava up to 300 feet deep, created new land where flows enter the ocean, and built up a new mountain where none existed before.
Mauna Loa and Kilauea are the most studied and best understood volcanoes in the world. The favorable opportunities afforded by Hawaiian volcanoes for fundamental and detailed research are not duplicated or even approached in any other park of the world. The program of study is under the direction of U.S. Geological Survey scientists. And Kilauea is perhaps the most safe and accessible active volcano for people to see. This dual role makes the park extremely valuable for both research and sightseeing. Mauna Loa, above the temperature inversion level, has unusually clean air offering an exceptional opportunity for studies related to contamination trends of the earth's upper air envelope.
With the arrival of European civilization to the Island of Hawai'i two hundred years ago, the fragile native biota of the islands was disturbed. Some of these changes have been almost catastrophic with regard to certain plant and animal species; but to the uninitiated visitor these changes are not readily apparent, so that to them the park appears to be much the same today as it did when man first saw the magnificent displays of volcanism, the great fern forests and the superb views along the seacoast and up the palis (cliffs).