Park Fun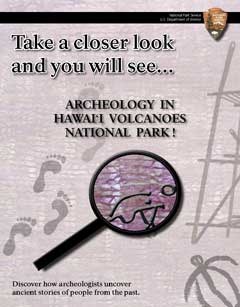 Archeology in Hawai'i Volcanoes National Park (pdf 3.94MB)
This children's magazine features fun activities on archeology in Hawai'i Volcanoes National Park.
Don't Be a Lava Loser (jpg 2.77MB)
Be a Hazard Wizard! Be prepared when hiking in the park!
Written in Stone ( jpg 2.67MB )
Don't we all love a good story? Visit Pu'uloa, the largest petroglyph field in the Pacific and "hear" the stories of the people who once lived in this area.
Echo Crater ( jpg 3.02MB )
Can you believe it? Yelling is ok here ....Learn what echoes and bats have in common.
Archeology in the Park ( jpg 1.8MB )
Look here for an archeology "search and find" activity.
Last updated: October 12, 2017