Park Fun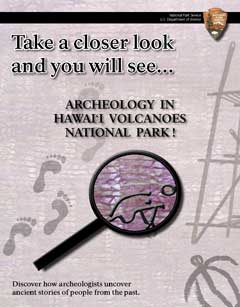 Archeology in Hawai'i Volcanoes National Park (pdf 3.4MB)
This children's magazine features fun activities on archeology in Hawai'i Volcanoes National Park.
Don't Be a Lava Loser (pdf 148KB)
Be a Hazard Wizard! Be prepared when hiking in the park!
Written in Stone (pdf 102KB)
Don't we all love a good story? Visit Pu'uloa, the largest petroglyph field in the Pacific and "hear" the stories of the people who once lived in this area.
Echo Crater (pdf 80KB)
Can you believe it? Yelling is ok here ....Learn what echoes and bats have in common.
Archeology in the Park (pdf 523KB)
Look here for an archeology "search and find" activity.
Last updated: February 28, 2015