Lesson Plan
Wahikapu o Pele "Sacred Place of Pele": Grade 4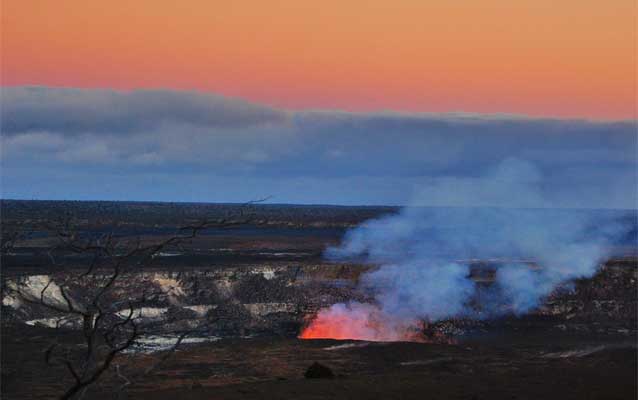 Grade Level:

Fourth Grade

Subject:

Biology: Plants, Geology, History

Duration:

This lesson is a 2 hour guided tour at Hawai'i Volcanoes National Park

Group Size:

Up to 60

Setting:

outdoors
Overview
From the summit of the Kīlauea volcano students will embark on a journey back through time to discover the cultural significance of Pele. Through stories, plants, and chants the deity of Pele comes to life. Leaving students with a deeper understanding of Hawaiian thinking as well as the ability to understand the connection of science and folklore.
Objective(s)
In this lesson our goal is to leave students with a deeper more connected understanding of the Hawaii Volcanoes National Park, and the cultural components that play into it. By teaching students about the stories and history which make up this area of land students will be able to see things in a much more grounded perspective. Through the personification of certain deities, we are able to correlate history and science leaving the mind to wonder. In turn creating a deeper passion for the land, conservation, and aloha.
Background
No background information is really necessary, possibly reading over some folklore of Pele would be suggested.
Materials
You may view the 8 page lesson plan below or download the pdf version via the link at the top of this page.
Assessment
Assessment can be based upon worksheet provided with curriculum, although assessment wont be necessary considering we will go over answers together. Later testing of discussed topics is left up to the teacher(s).
Park Connections
This lesson plan is a basic cultural history of the Hawai'i Volcanoes National Park.
Vocabulary
Pele, Hi'iakaikapoliopele, Halema'uma'u, Kamapua'a, ho'okupu
Last updated: June 8, 2017