Master Volunteer Ranger Noel Eberz Exceeds 5000 Hours
Noel is honored with a 5000 Hour Life Time Achievement Award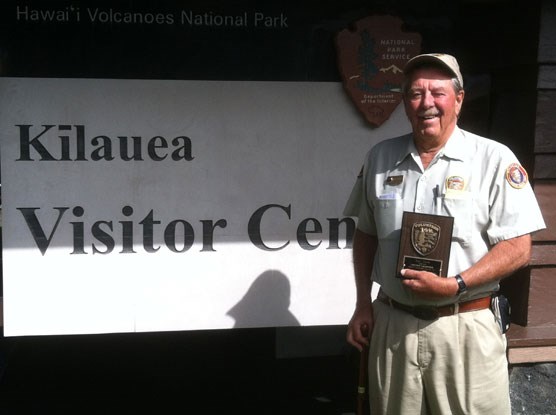 Noel has been a volunteer here at Hawai'i Volcanoes National Park since 2002.
Noel has been performing popular interpretive hikes for visitors to Hawaiʻi Volcanoes National Park including a hike called "Above and Below". He starts the group at the Kīlauea Iki overlook where he re-lives the spectacular 1959 Kīlauea Iki eruption with the lava fountain that went as high as 1900 feet. He then takes them on a hike through the rain forest, ending up at the Thurston Lava Tube (Nāhuku).
Another popular hike Noel does is to the site of the 1974 Mauna Ulu fissure eruption where he interprets the geology and re-enacts what happed there.
Noel has also volunteered at the new Kahuku Unit of the park. He has served as the main point of contact greeting visitors, as well as helping lead the interpretive "People and Land of Kahuku" hikes when there were large groups.
Noel usually offers his programs on Wednesdays, so if you're visiting Hawaiʻi Volcanoes National Park, be sure to join him. Hike schedules are posted at the Kīlauea Visitor Center.
Last updated: February 28, 2015