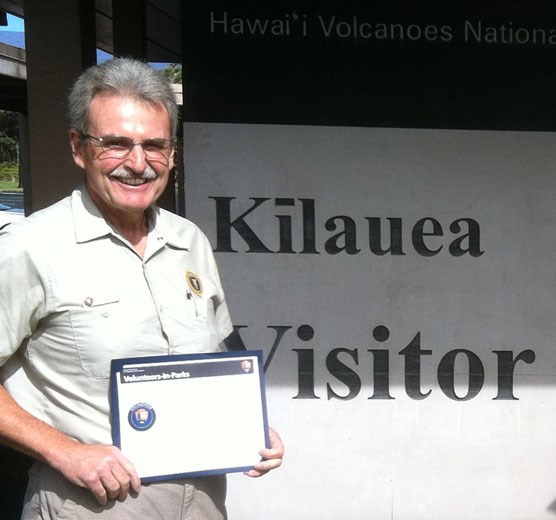 Jim has been a volunteer here at Hawaiʻi Volcanoes National Park since September 2011.
Besides helping visitors to the park plan their visit, Jim offers two interpretive hikes. One is the very popular Kīlauea Iki hike which is a four mile loop trail that takes you through the rain forest along the crater rim, then descends approximatley 400 feet to the crater floor. The trail goes across the crater floor, past the vent that was the source of the spectacular 1959 Kīlauea Iki eruption and back up the other side of the crater.
The other hike Jim offers is called "Into the Volcano". It begins at the Kīlauea Visitor Center and follows the Halemʻamaʻu Trail to the floor of Kīlauea Caldera and continues on a portion of the caldera floor and back up to Byron Ledge, returning to the Kīlauea Visitor Center via Earthquake Trail (old Crater rim drive). The length of the hike is 2.7 miles.
Jim also helps with special park projects including a major translation project, where sections of the park website are being offered in different languages. Jim has also been working with other volunteers, recording the park's feature film narration to other languages so that visitors can listen to the film narration in their desired language through a hand held audio device.
It's volunteers like Jim that accomplish important tasks that otherwise may never happen.