Meet Volunteer Will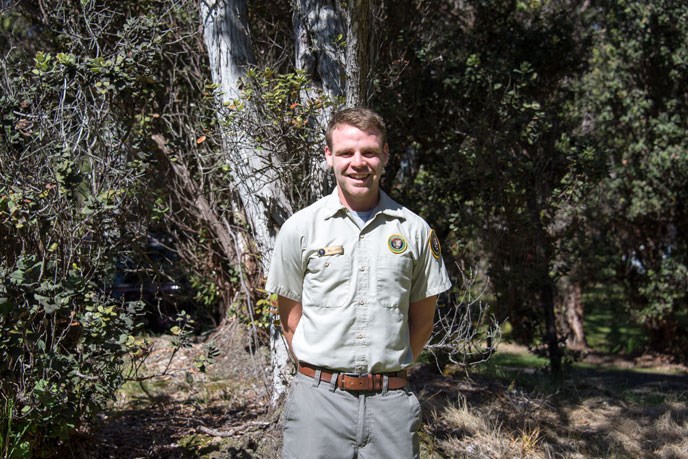 What compelling life experiences bring me to volunteer?
After attaining my degree in physical geography from the University of Sheffield, UK, I knew that I wanted to travel as well as apply the knowledge I had gained over three years of study. Volunteering for the park seemed like the perfect balance of work and adventure in a landscape I knew a lot about. Past experiences of volunteering in the UK had opened my eyes to the personal benefits of giving your time to a worthy cause. I wanted to continue to do this whilst gaining rich experiences. The Hawaiian phrase 'huaka'i hele' puts it perfectly: I wanted to 'travel with purpose'.
Why did I choose to volunteer at Hawai'i Volcanoes National Park?
Who wouldn't want to work on one of the most active volcanoes on earth? When you have a passion for geology, there is no better place to live and work than on the summit of Kilauea. However I knew I wanted to volunteer in Hawaii Volcanoes National Park when I was watching a television program broadcast in the UK from edge of the Kilauea caldera. I was inspired by the dynamism and diversity of the park. I noted down the name of a ranger who appeared on the program and sent him a speculative email. Five months later I was boarding a plane to Hawaii!
What do I hope to bring to the park as well as leave with?
My main ambition whilst volunteering is to help visitors make a connection to the park. I want visitors to say "Wow, I did not know that". Then you know they appreciate the uniqueness of the park and that you're doing a good job. In return, I want to leave with rich experiences, great memories and some amazing photographs.
Further Thought
When I first arrived, I wondered how much I would be able to explore the park and the Island. However, I soon discovered that exploring is actively encouraged. The more I hiked, drove and camped around the park the more appreciation I had for its diversity and uniqueness. My passion for the park was then transferred to the visitors I spoke to on a daily basis. You can only truly inform someone about the lava flow when you've done the hike to see it yourself. In addition, I received two weeks of rigorous training at the beginning of my term that helped me to understand the biological and cultural significance of the park. All in all, an amazing experience, and all because of an email!
Last updated: September 16, 2015