Meet Volunteer Renata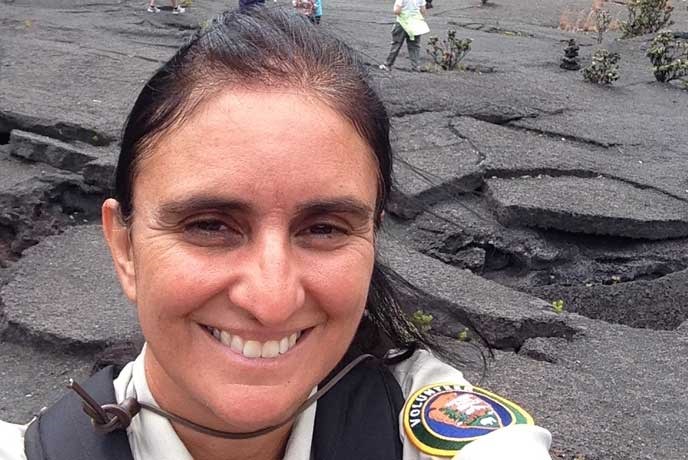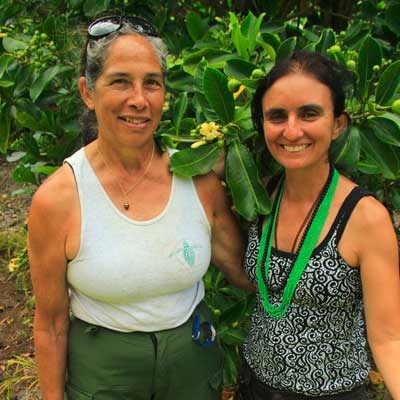 Program Report
The Interpretation and Education Division of the Hawai'i Volcanoes National Park led a week of intensive training for the Volunteers in the Park. The topics covered during training includes: Hawaiian Culture, Biology, Geology, Crater Rim Drive Geology, Jaggar Museum resources, customer service skills; Freemen Tilden's Principles, roving techniques, thematic based interpretive program, library training, Kīlauea Visitor Center close and opening sequences, Chain of Craters Road Geology, Pu'u Loa (Petroglyphs) hike orientation, media and film crew training; safety equipment training (SO2 monitors and radio); orientation about three parks on the west side of the island: Pu'uhonua o Hōnaunau, Kaloko-Honokōhau and, and Pu'ukoholā Heiau. After the training I could then work at my own pace to make myself fit for leading hikes and other ranger activities. I was able to join a few activities with school and college groups such as, Clark Montessori from Ohio, Shady Grove from Hawai'i, Koko Head from Oahu, Holy Catholic from Oahu and the Hawaii Academy of Arts and Sciences from Pahoa.
My overall Hawaiian experience has been very intense and prolific. My list of achievements includes a wide spectrum. The list goes from learning about: the geology of some of the most active shield volcanoes in the world; Hawaiian culture and language; the unique Hawaiian endemic plants and animals; local environmental issues and interpretation techniques. I really enjoyed sharing my newly acquired knowledge, especially when I led hikes with school/college groups as well as visitors from different parts of the world. It was interesting to experience and observe different leadership, mentoring and managerial styles. I also enjoyed paddling outrigger canoes and my Hawai'i Volcanoes National Park team came second during Kamehameha Canoe Club Business race in Hilo. Also, having experienced the Merrie Monarch Festival (Hula Olympics), visiting Hawaiian Charter Schools and meeting Hawaiian teachers, making new friends, trying different foods, attending Hawaiian language classes.
Yesterday during my visit to the Imiloa Astronomy Center of Hawai'i I read a quote from one of the signs of their beautiful landscaped gardens that resonated with me, describing a lot about my experience in Hawai'i:
"E ulu a'e ka na'auao mai ka 'ehukai a ka 'ehulani" which translates to "Let wisdom unfold from all realms of the universe".
I am enthusiastic and have a passion for natural history and sciences and I am in my element when I am outdoors doing field and environmental studies and thus I feel as though I have benefited greatly from my time as an International Volunteer in the Park for the Interpretation and Education Division of the Hawai'i Volcanoes National Park. The most amazing thing for me as a geologist and as a teacher is that what is happening in the Hawai'i Island today in terms of geological events is probably very similar to what happened 23 million years ago near where I live and work in the southeast Queensland, Australia and more specifically near the erosional caldera of Tweed Shield Volcano and the Gondwana Rainforests of Australia World Heritage area. It was a rewarding experience to spend my sabbatical supporting the Hawai'i Volcanoes National Park and the US National Parks system, as they are important organisations for education, conservation and sustainability. I recommend other people interested in discovering new places and meeting different people, to apply for a volunteer job at Hawai'i Volcanoes National Park. It's an awesome experience you will never forget!
I am taking the knowledge and lots of new ideas from my experience in the US and hopefully I will be able apply/modify them and help to improve the way I approach educational and stewardship programs in Australia.
Last updated: September 15, 2015