Meet Volunteer Nicolas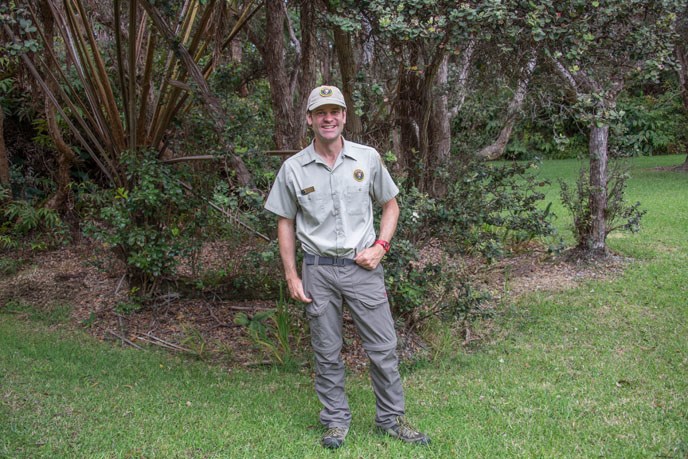 I was always fascinated by remote exotic places like the Hawaiian Islands. My studies in botany and mycology in Switzerland encouraged me to go and discover such places around the world. One of my colleagues at university was a volunteer in Hawai'i Volcanoes National Park in the late nineties; he highly recommended to me to do the same. The key moment came for me, when at the History Museum of Berne an exhibition on Captain James Cook was shown. I was so fascinated about his life and discoveries that I decided to travel in his footsteps to the place where he lost his life – Kealakekua Bay on the Island of Hawai'i. The Hawaiian culture and nature were so clearly present in this exhibition, amongst others by three traditional Hawaiian feather cloaks, I absolutely wanted to learn more about it. So, I applied as an International Volunteer in Hawai'i Volcanoes National Park! And that emerged into one of my most impressive experiences of my entire life: An amazing volcanic landscape, a special and breathtakingly beautiful flora, colorful birds and last but not least: the kindest, friendliest and most exciting park staff I ever encountered! These made my three months stay here in the middle of the Pacific Ocean, more than 12,000 km away from home, a truly enriching experience, I will never forget.
I highly encourage other people interested in discovering new places and meeting new exciting people, to apply for a volunteer job, either at Hawai'i Volcanoes National Park or in another National Park in the US. It's an experience you will never forget!
Mahalo nui, a hui hou!
Last updated: September 16, 2015