Meet Volunteer Michael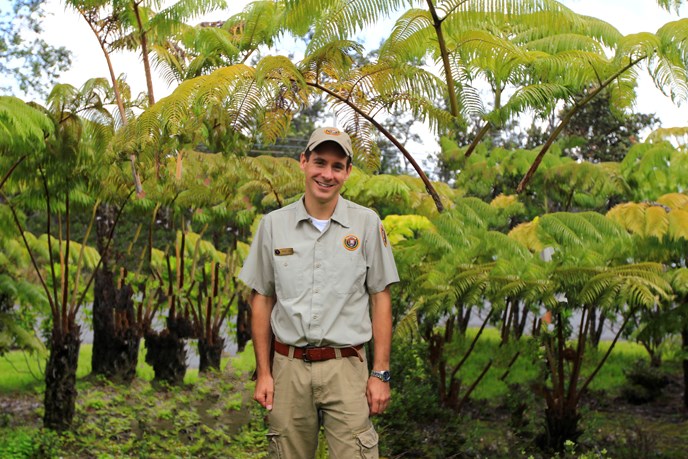 Why volunteer at this park: Travelling and exploring new landscapes were always compelling for me, and I had traveled extensively throughout the United States in the past, profiting from the services, the facilities and the knowledge of the National Park Service and the dedication and insight of the Park Rangers. Having worked an extensive time in my permanent job back home, I was able to get a "sabbatical" break and wanted to spend it wisely and also give something back to the Park Service. With a double Master's degree in Geophysics and in Natural Hazards Management as well as teaching and guiding experience, I considered myself fit for a Park assignment.
Why choose HAVO: My background is in Natural Hazards Management and Geosciences, and my passion are the wonders and the forces of nature. Working and spending time in a beautifully shaped landscape was the perfect opportunity to guide, teach and motivate visitors to explore the park's beauty and understand the processes that shape and maintain it - and where better than on the world's most active volcano?
Hope to bring and leave with at HAVO: I hope that I have successfully brought and left behind a little bit of my spirit and a breeze of "European air" as an International Volunteer, as well as an ample photography library that can be enjoyed and used by the Park Service for various purposes. It was great working with and supporting the full-time, experienced National Park Service Staff wherever needed. This sabbatical time was a great opportunity to get back into the field and recharge my batteries from my day-to-day job. In addition, I have so many fond memories of the various activities and events here on the Big Island, and it was truly a gift being able to work alongside such a fun, dedicated, passionate young workforce that I found here in the Interpretation Division.
Additional comments: While it may seem that many hurdles need to be overcome when applying as an International Volunteer so far away from Hawai'i as central Europe, it is actually not all that hard. Once the paperwork is done with and the motivation upon oneself is really there to do it, all happens pretty smoothly. I was warmly welcomed, the three volunteers from abroad at that time formed a fine team that integrated into a yet bigger team of "trainees" from various places. We received two weeks of truly comprehensive training and could then work at our own pace to make ourselves fit for leading hikes and other ranger activities. We were always supported in what we wanted to achieve and I felt home away from home. Mahalo for all the memories and great moments!
Last updated: September 16, 2015