Meet Volunteer Mariko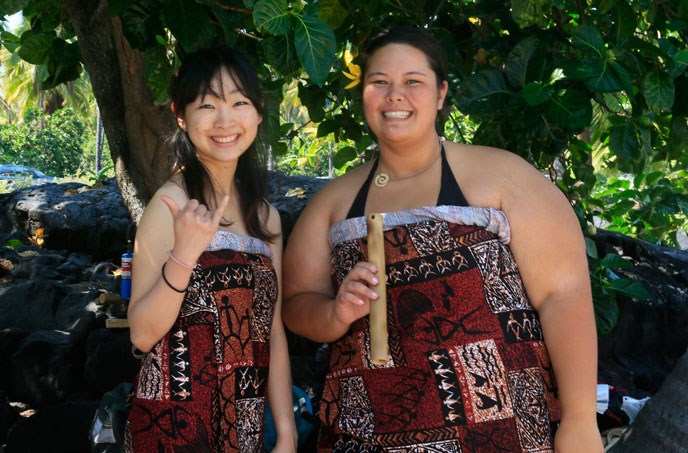 Why I chose Hawai'i Volcanoes National Park as a place to volunteer?
I see interpretation as the crucial skill for my future dream: A nature guide in my home country, Japan. I wouldn't like to lead tours that only go through popular spots, but rather with some messages of nature, history, and culture. Interpretation skill was the best skill to make my tour a meaningful one. Because interpretation first developed in U.S., I always wanted to come to one of the U.S. National Park and get trained by rangers. I chose HVNP because it has similarities to the environment of Japan; Volcanoes and high ratio of endemic species. Then I could learn the methods of introducing those similar features here.
What personal background and skills do I foresee using or are already using here in the Park in this role?
My mother tongue, Japanese language, can be a support for Japanese visitors. I like the moment when I talk to Japanese visitors and they showed relieved look on their faces! Also I never thought that my travelling experiences in several foreign countries worked quite positively at this park. Because I've seen some of what their home country looks like, I could contribute to smoother communication as well as comparing natural environment.
What do I hope to bring to this volunteer opportunity?
Not only adding the Asian taste to the floor of KVC (Kīlauea Visitor Center) to make it more international, but also some enjoyable atmosphere using my Ukulele! (still learning!) Plus, if it's possible I would like to lead some hikes in Japanese visitor as well as assistances at the visitor center.
What do I hope to take away from the experience?
Interpretation skill that is high enough to lead a hike professionally in Japan. I will organize tours for both Japanese and foreign travellers, for youths and elderlies as well. This experience of meeting all kinds of people from all over the world will definitely become a big step forward to my future dream.
What kind of impact do I hope to make while volunteering here?
As an IVIP (International Volunteer In Park), I hope I could function as some kind of lubricant between the nations for better communication. Although I am not Hawaiian, pure Japanese, but I feel like this is my second home country and I like Hawai`i's people, culture, and of course it's nature. I want to let visitors from abroad to know more about this place and like here even more. Not only between the visitors and myself, but also between the visitors in my hike as well. It would be nice if I could lead a hike that makes some connections between nature and visitors, and visitors and visitors as well.
Anything else worth mentioning?
I must appreciate HVNP for all the skilled training and warm supports to let me learn fully in this amazing national park. I believe this park provides the best learning environment for all volunteers. I really enjoy the life with my housemates, as well as the time at the floor of KVC. My Hawaiian colleagues are really the precious makana (=gift) that I received through this program.
Last updated: September 16, 2015