Meet Volunteer Heidi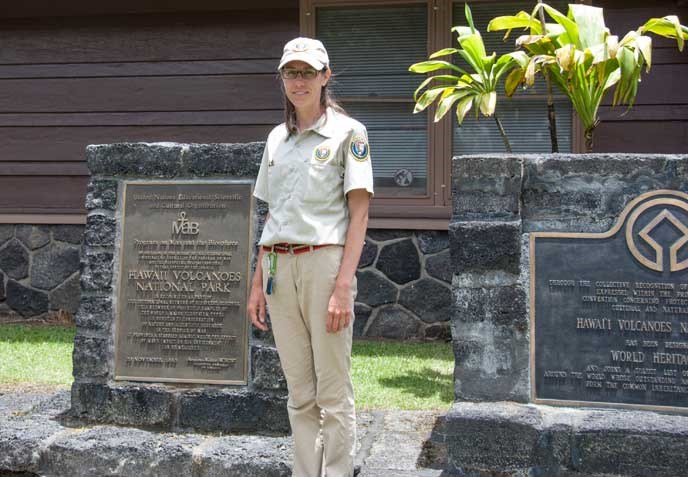 Heidi is a three month term volunteer at Hawai'i Volcanoes National Park from Montoursville Pennsylvania. She was presented with three questions and here are her responses.
Q: What compelling life experiences bring you to this point in time to volunteer at the park?
A: Rather than wait till I am retirement age to begin traveling and/or experiencing "life", I decided to take a leap of faith and trust that God's plan for my life is much greater than what I have planned. As a pharmacist most recently working in the inpatient pharmacy at a hospital, I know the importance of good communication and working toward a collective goal – a positive patient experience – which is able to be transferred in the same manner as volunteering with the national parks. Ensuring each visitor has a positive interaction with staff, learning why the national parks are important in the scheme of the United States, and encouraging the visitor to become actively engaged in preservation are vital.
Q: Why did you choose to volunteer at Hawai'i Volcanoes National Park?
A: I chose Hawai'i Volcanoes National Park because I was familiar with O'ahu from visiting the island in 2004 when my brother was stationed there. Initially, I was looking at Oregon or Washington states, but needed housing and the parks in those states only provided an RV pad….minor technicality except I don't have an RV!! I like warm weather and wanted an experience far removed from my comfort zone where I could be immersed in a culture and meet people from all walks of life.
Q: What do you hope to bring to the park as well as leave with?
A: People my age are in the throes of working – saving for retirement – dreaming of the future, why wait?! I hope to inspire people to break the mold of working to live and rather live to work. We only have a finite amount of time to enjoy life – don't regret and wonder what if. Choose yourself! Strive to improve yourself and challenge those around you.
Last updated: September 15, 2015