Summit Area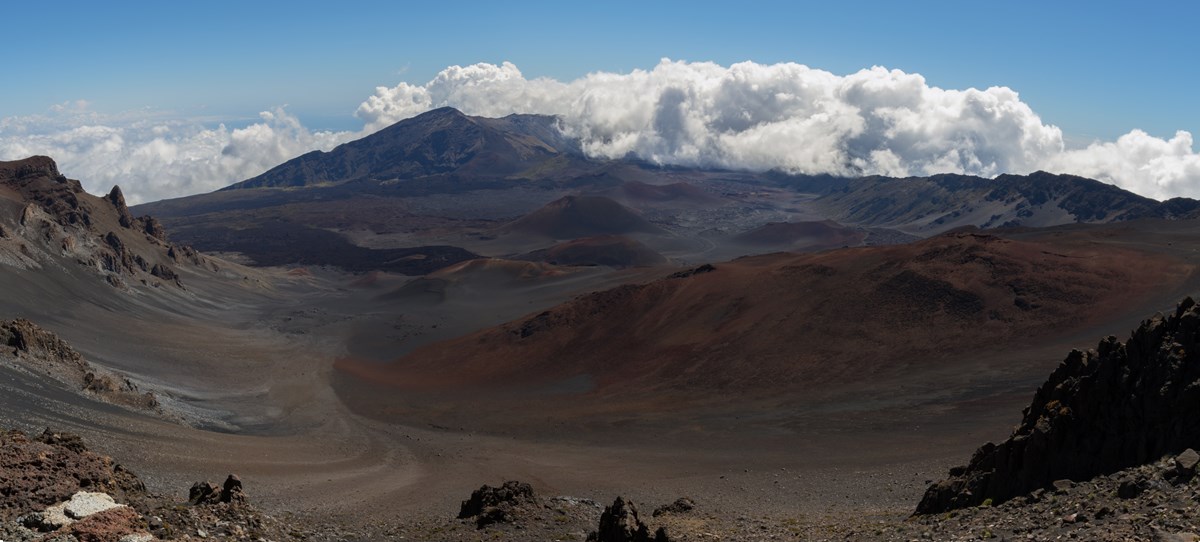 ---
No place can prepare you for the experiences and feelings you will have on the summit of Haleakalā volcano. The landscape - deeply sculpted, richly colored, and intensely evocative - will be unlike any landcape you have known.
You may spend a few hours hiking in the cinder desert landscape or a few minutes looking for native birds in the shrubland. Whatever you choose to do, you will do it surrounded by native Hawaiian plants and animals. The mountain summit is one of the only easily-accessible areas of Hawai'i where our rare and endemic species survive and thrive.
Already impressive in the light of day, the summit takes on a new dimension at night when the darkness reveals the brilliant night sky.
Know before you go:
Dress warmly. Be prepared for all kinds of weather. Temperatures at the summit are at least 20 degrees colder than at sea level and often drop below freezing.
Fill up your gas tank and bring food. Neither are available in the park.
Bring water and sunscreen and wear sturdy shoes.
Pay the entrance fee with a credit card.
Always respect speed limits. The park road goes through endangered species habitat.
Please leave natural resources and cultural artifacts, rocks, and structures alone.
Please be quiet and respectful. The summit is sacred to Native Hawaiians.
The summit is remote. Emergency medical assistance is at least one hour away.
---
Guided Activities
Visit our
Guided Activities
page to learn about ranger-guided excursions, vehicle tours, volunteer opportunities, and more.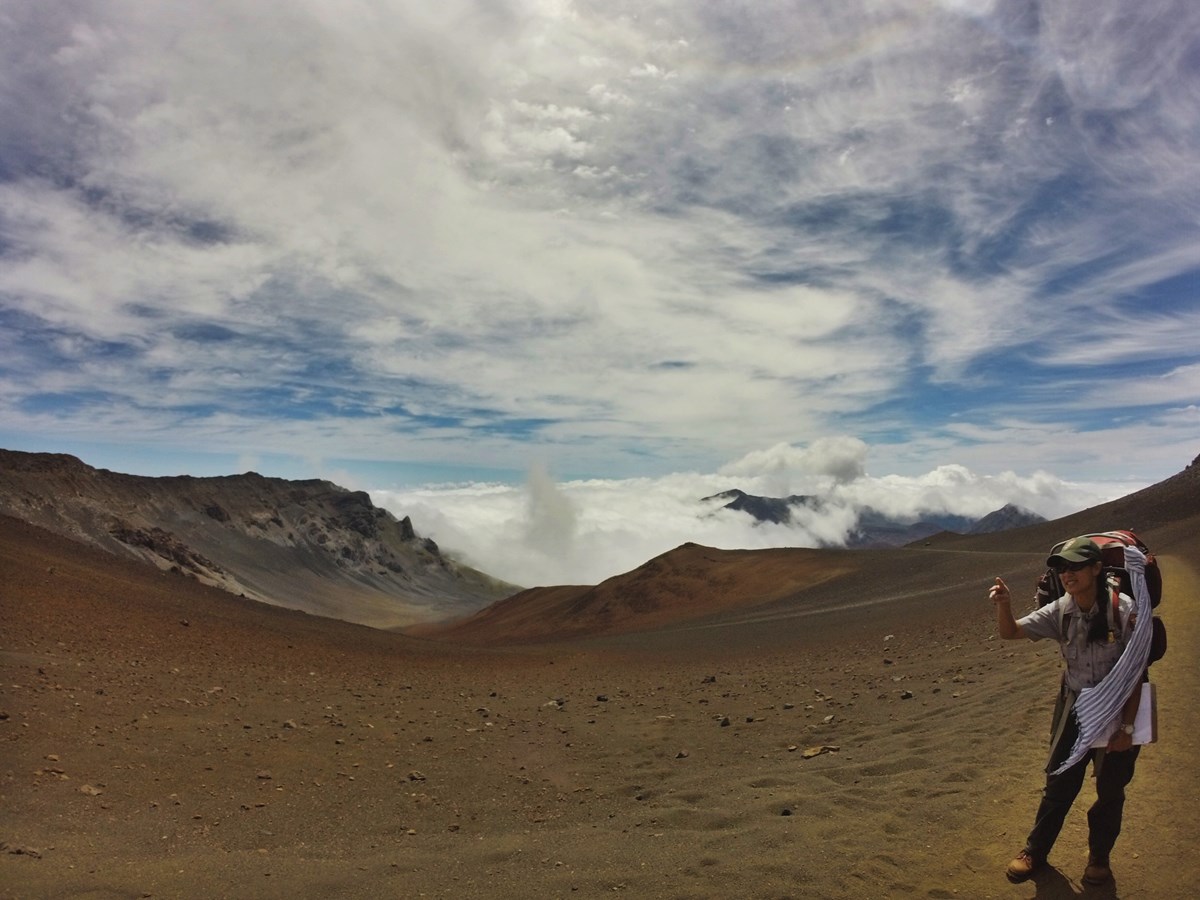 ---
Skywatching
High elevation (10,023 feet at the summit), lack of light and environmental pollution, and dynamic weather patterns make Haleakalā an ideal skywatching location. Sunrises and sunsets are popular events. Consider sticking around after sunset for some of the best stargazing in the world. The park is open to visitors 24 hours per day, 365 days per year. Prepare for harsh UV rays and cold temperatures year-round.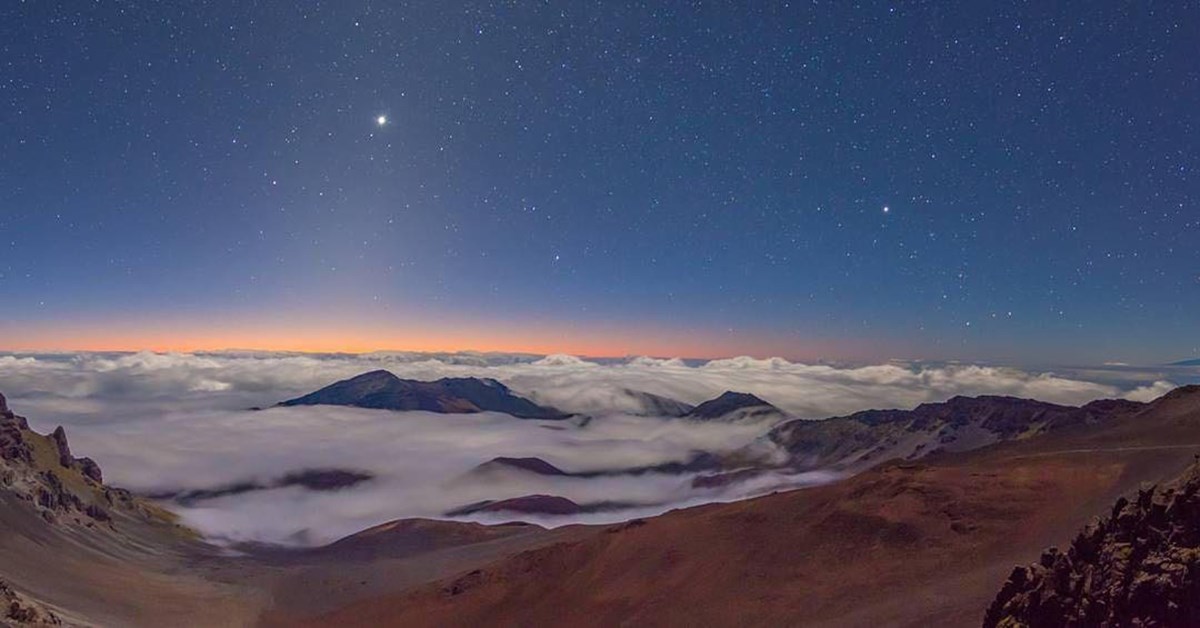 ---
Hiking
There is no better way to experience the park than by walking its trails. Feel the crunch of cinder beneath your boots, smell the honey-sweet scent of 'āhinahina (silversword) blossoms, and enjoy the songs of native birds. There are 35+ miles of hiking trails in the Wilderness Area that guide hikers through subalpine shrubland, cloud forest, and cinder desert.

Weather is unpredictable and can change at any moment. Bring a hat, sunglass, sunblock/sunscreen, layered clothing, rain gear, food, and water. Wear sturdy, close-toed shoes.
Visit our Hiking page for more specific information.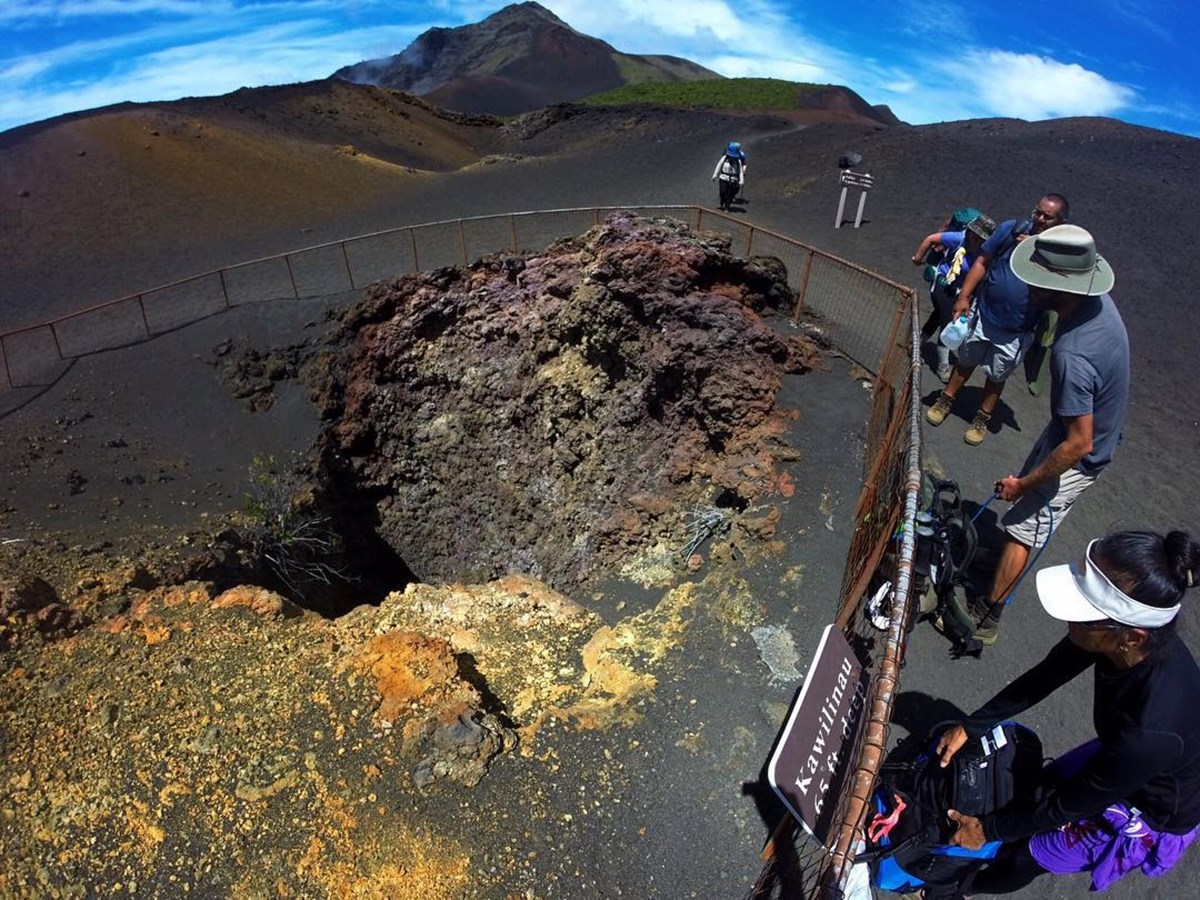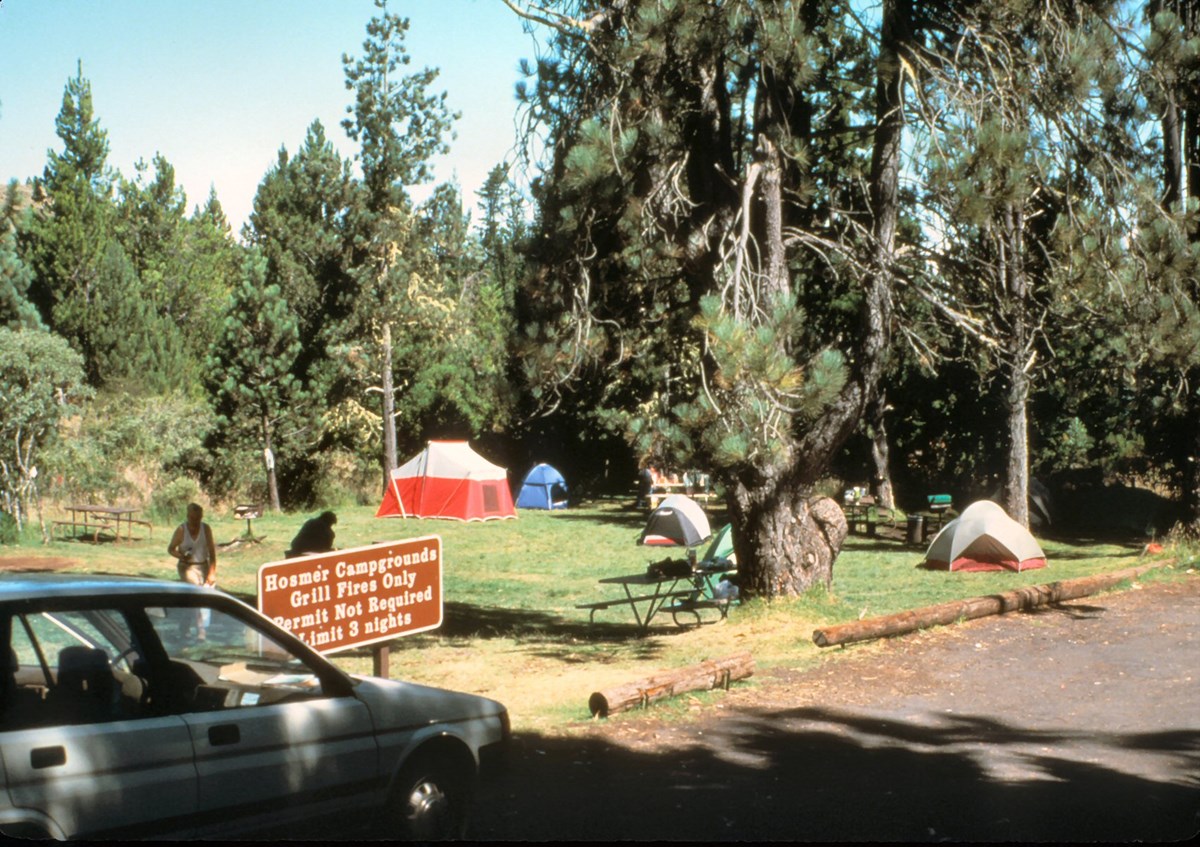 ---
Safety
Haleakalā National Park is a changing landscape with inherent and unpredictable natural hazards. This landscape is subject to constant change from natural forces including erosion, weather, earthquakes, and currents. The National Park Service has limited ability to monitor and no ability to control these forces. Obey all posted warnings and staff guidelines.
The Summit Area of the park begins at 7,000 feet in elevation and reaches 10,023 feet at the summit. The high altitude at the Summit Area may complicate health conditions and cause breathing difficulties. Elderly visitors, pregnant women, young children, and those with respiratory or heart conditions should consult their doctors prior to traveling to high elevations. To help avoid major safety concerns, be sure to walk slowly at high elevation and drink water to avoid dehydration.
Remember that you will be on a 10,000-foot mountain top in the middle of the Pacific Ocean. The weather can change drastically throughout a single day. Be prepared for hot temperatures, intense UV rays, wind, rain, and cold temperatures. Visit our Weather page to learn more.
The road to the Summit Area of the park is a two-lane, paved road that is steep and winding in places. Construction vehicles, bicyclists, pedestrians, and buses use this road as well as private vehicles. Drive cautiously and safely. Read more about safe driving here.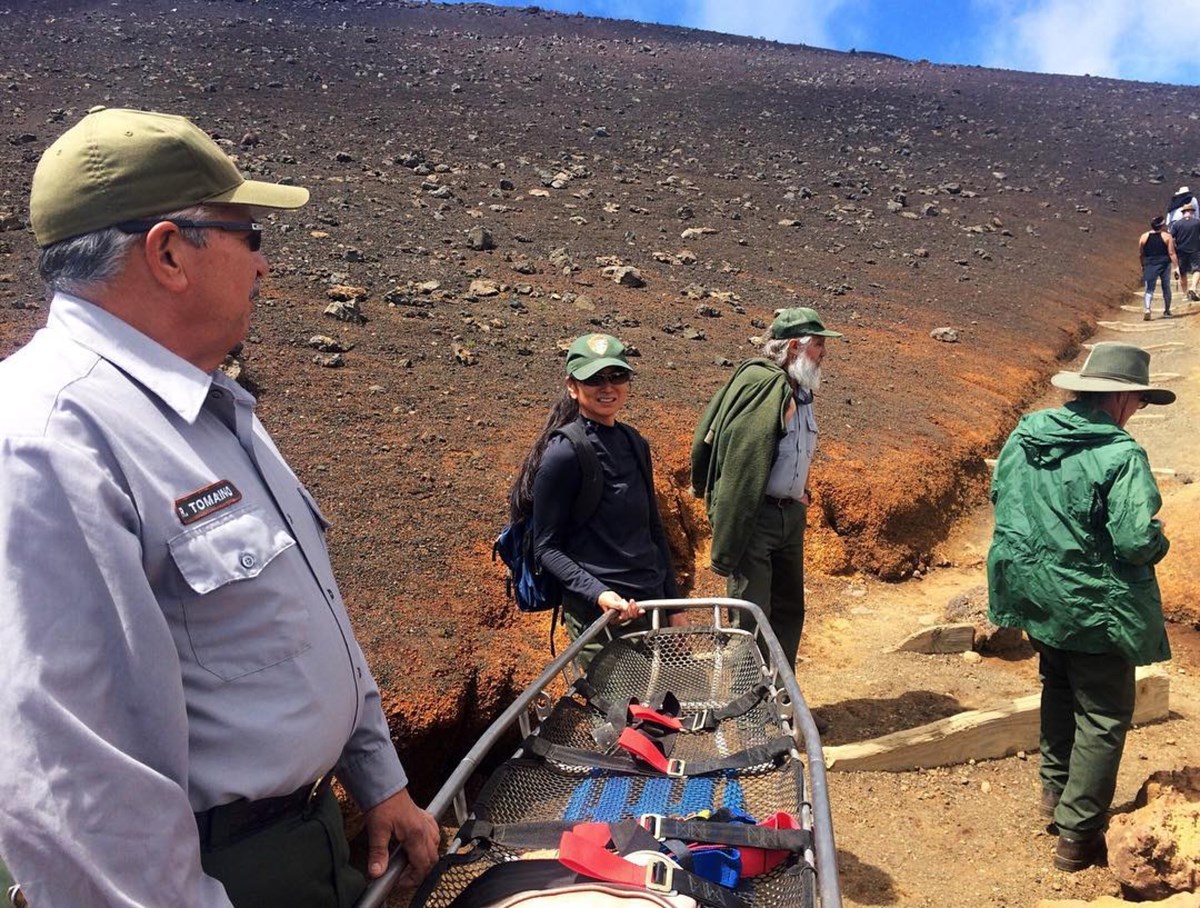 Last updated: June 25, 2019