Preservation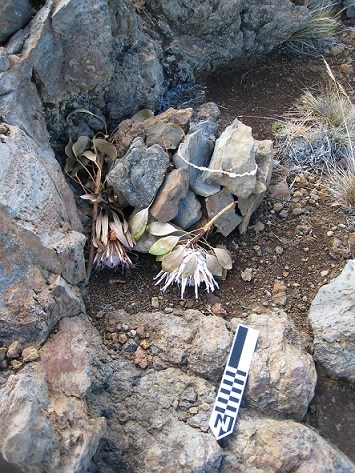 Even if it doesn't appear so, Haleakalā is a fragile landscape. It is home to a variety of plant and animal species found nowhere else in the world and includes a number of significant cultural sites.
Without meaning to do harm, many visitors feel the need to stack rocks, leave memorials (e.g., crosses, lei, photographs), carve their names on things, go off-trail exploring, or otherwise disturb places they visit here at Haleakalā National Park. These actions have a variety of negative effects such as damaging plant and animal habitat, creating marks that remain visible for years, and causing soil and cinder erosion. It is also disrespectful towards Native Hawaiian culture and other visitor's and future visitor's enjoyment of the park.
Many of the areas that visitors accidentally disturb contain archeological resources. Collecting artifacts or disturbing archeological materials in general, limits our ability to learn more about the past. Determining the provenience (that is, the precise location) of artifacts and other archeological materials is critical to archeologists being able to understand and interpret the culture which created the artifact or site. If you find an artifact or other archeological materials, leave it in place and report the discovery to park staff or contact the Park Archeologist at ph# (808) 572-4424.
Federal law prohibits the excavation, removal, damage, alteration or defacement of an archeological resource in Haleakalā National Park, without a valid permit. The Archeological Resources Protection Act (ARPA) of 1979 was enacted to secure for the present and future benefits of the American people, the protection of archeological resources on public and Indian lands. Prohibited activities can result in large fines and jail time for violators.
Enjoy Haleakalā National Park respectfully. Do not stack rocks, leave memorials or otherwise deface resources. Please stay on trail. Mahalo!
Last updated: February 28, 2015