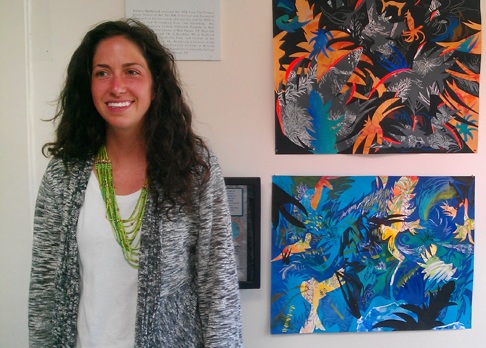 In June 2013, Haleakalā National Park hosted Artist in Eesidence, Natalie Westbrook, print-maker, painter and collage artist from New Haven, Connecticut.
About Natalie:
In 2009, Westbrook received a grant to create new works inspired by Maui and Kauai's National Tropical Botanical Gardens during her graduate art studies. Thus began a profound relationship to the natural world which continues today in her bright, bold paintings and collages. Westbrook has exhibited her abstract and figurative work in Los Angeles, New York City and teaches art at Yale University.
Westbrook was selected by a jury panel comprised of National Park and Maui Arts and Cultural Center representatives. The applicants included musicians, sculptors and painters. "We are excited to see what Natalie creates during her two weeks in the park. She offers us a fesh artistic perspective on a beloved place, as well as an opportunity to share her diverse talents with our student interns and visitors," said Melissa Chimera, Volunteer Coordinator.
The artist created a new series based on Haleakalā's unique and rare flora, such as the `āhinahina, the Haleakalā silversword found only on east Maui. The series is available for viewing below.