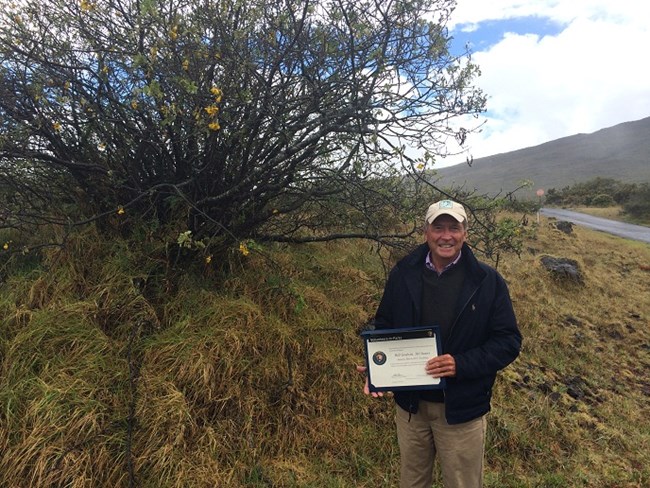 What drew you to volunteer at Haleakalā National Park, Why have you come back for repeat seasons?
As a volunteer you look for National Parks that offer an opportunity to learn geographically and culturally those things in which you have an interest. Haleakalā was a great fit. Added to that is the hope that your own expertise will support the day-to-day operations and overall objectives of the Park. Thus far I have volunteered for six years at Haleakalā. What I have experienced is a very professional and friendly staff that is passionate about what the National Parks represent and individuals who appreciate my efforts as a volunteer.


What type of work or projects have you done for the park and how did they help the park achieve their mission/goals?
My first assignment as a volunteer was to work with the Park in their efforts to manage their way through a Department of Interior Environmental Safety and Health audit. This, over time, led to projects to create, update and implement a multitude of programs such as the Integrated Solid Waste Alternatives Plan. Over time, this effort expanded to projects to ensure desired compliance and results within the Facilities Management Division.

Why would you recommend people to volunteer here at Haleakala National Park?
The Management Team and staff in general appreciate volunteers who bring a different perspective and in my case took the time based on my expertise to figure out how I could best support what they needed done. They genuinely care that any volunteer experience is rewarding not only for the park but for the volunteer.

Any other things you would like to add in to share with the public about yourself, volunteer service work, work experience?
The Volunteer Coordinator and Management team gets credit for taking the time to understand my pre-retirement work experience and matching that with existing priorities within the Park. That becomes a win/win for all involved. The NPS gets needed support and I feel I have helped in a meaningful and perhaps unique way.