Permits & Reservations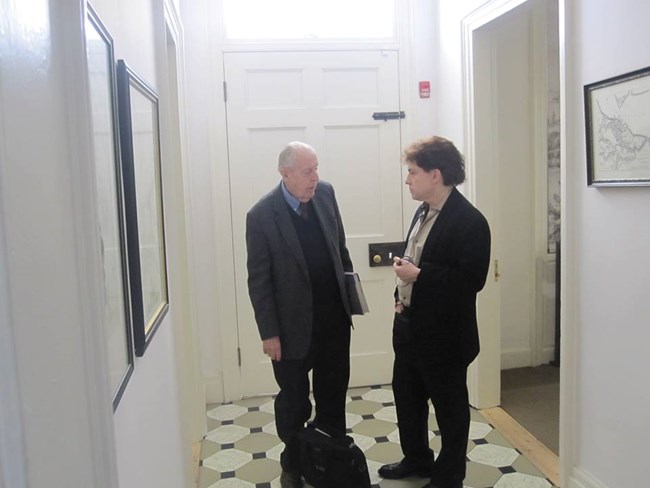 Hamilton Grange National Memorial accepts advance tour reservations for groups of 10 to 30 individuals. Tours may be scheduled for 10:00 a.m. or 11:00 a.m., Wednesday through Friday.
Click HERE to download more information and a group reservation request form. You can make a request by completing the form and faxing it to (646) 548-9366. You can also e-mail the form to hagr_info@nps.gov. Please note: Submission of the request form does not mean that you have scheduled a tour. Your tour has not been scheduled until you have received a confirmation fax or e-mail from a Hamilton Grange ranger.

Groups must submit a request form at least two weeks prior to their desired tour date(s). Groups without reservations are welcome to visit the exhibit area and view the film. Groups may be scheduled at least 14 days in advance. The visitor capacity of the 1st floor during guided tours is 15, including all group leaders/chaperones. Please be aware of this before applying for a reservation. Youth groups must include 1 adult for every 8 youths or part thereof (e.g. a youth group of 12 youths must be accompanied by 2 adults.) NOTE: There are no dining facilities available anywhere on the property. Those groups wishing to picnic may do so in adjacent St. Nicholas Park, which is separately managed by the NYC Department of Parks and Recreation. Picnic groups of 20 or more for St. Nicholas Park must apply for a NYC permit, here.

Permits
A Special Use Permit is required for any activity that provides a benefit to an individual, group, or organization rather than the park or the public at large. Many of the events that require permits also require some degree of oversight from National Park Service staff.
Changes to Commercial Filming Permit on Park Land
The following types of filming activities may occur in areas open to the public without a permit and without advance notice to the NPS:
Outdoor filming activities [outside of areas managed as wilderness] involving five persons or less and equipment that will be carried at all times, except for small tripods used to hold cameras.
The organizer of any other type of filming activity must provide written notice to the Superintendent at least 10 days prior to the start of the proposed activity. Based upon the information provided, the Superintendent may require the organizer to apply for and obtain a permit if necessary to:
maintain public health and safety;

protect environmental or scenic values;

protect natural or cultural resources;

allow for equitable allocation and use of facilities; or

avoid conflict among visitor use activities.
If the Superintendent determines that the terms and conditions of a permit could not mitigate the concerns identified above in an acceptable manner, the Superintendent may deny a filming request without issuing a permit. The Superintendent will provide the basis for denial in writing upon request.

The NPS will consider requests and process permit applications in a timely manner. Processing times will vary depending on the complexity of the proposed activity. If the organizer provides the required 10 day advance notice to the NPS and has not received a written response from the NPS that a permit is required prior to the first day of production, the proposed filming activities may occur without a permit.

The following are prohibited:
Engaging in a filming activity without providing advance notice to the Superintendent when required.

Engaging in a filming activity without a permit if [the activity takes place in areas managed as wilderness or if the Superintendent has notified the organizer in writing that a permit is required.

Violating a term and condition of a permit issued under this action. Violating a term or condition of a permit issued under to this action may also result in the suspension and revocation of the permit by the Superintendent.
Still Photography
A Still Photography Permit s required for any photography done by photojournalists and other members of the media within the boundary of Hamilton Grange National Memorial. For more information regarding special use and commercial filming at Hamilton Grange, please email us.
First Amendment Activities
We encourage citizens to exercise rights guaranteed by the Constitution. However, the courts have recognized that activities associated with the exercise of these rights may be reasonably regulated to protect the public and park resources. Therefore, such First Amendment activities involving more than 25 participants require special use permits and National Park Service staff may regulate the time, place, and manner in which they are conducted.
Some examples are:
distribution and/or sale of printed matter

religious services

public demonstrations or assemblies, etc.

collecting signatures for petitions
Forms
Permit Application Instructions and Requirements

View and print the Safety Plan that must be submited with your application

Application for Special Use Permit (including 1st Amendment)

Application for non-low impact photography & filming permit (short form)

Application for non-low impact photography & filming permit (long form)
Application Process
To apply for a permit, complete the forms, and send it with a non-refundable application fee of $50 to:
Hamilton Grange National Memorial
National Park Service
Attention: Business Management Program
26 Wall Street, New York, NY 10005

Please make check or money order payable to the "National Park Service". Note that this is only an application form. A permit form will be sent to you as soon as we approve your proposed activity. No Special Use Permit is valid until signed by the Superintendent or other authorized federal official. Please be advised that additional fees maybe assessed, depending upon the nature of the activity.
Last updated: September 26, 2021