Bicycling Information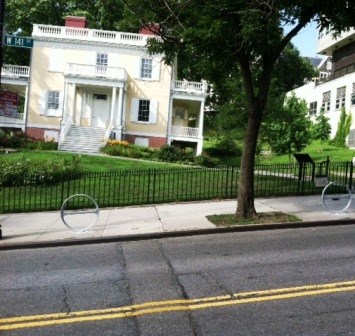 Bike to Hamilton Grange National Memorial
Whether you go slow or fast, you bike because you like to ride. The fresh air invigorates you. Exposure to the environment awakens and heightens your senses. Closeness to the elements invigorates and makes you feel alive. Cycling is a great way to explore at a reasonable pace. You make discoveries about your neighborhood every time you ride. You tune in to the rhythms of nature, with seasons and wind and weather.
On your next bike ride why not visit Hamilton Grange National Memorial located in Hamilton Heights. Named after Alexander Hamilton, the neighborhood now known as Hamilton Heights was once a sprawling farmland with country estates for NYC's well-to-do. Through its growth, Hamilton Heights became an epicenter for music and arts in NYC, where you might find Duke Ellington as your band leader at the Cotton Club, or the Dance Theater of Harlem perfecting its style. This run takes you through the campus of CUNY (City University of NY) and to Riverbank State Park, high above the Harlem River.
Bicyclists are welcome to use the racks that are provided, on the sidewalk in front of Hamilton Grange, to secure their bikes.
Bicycle Routes
The New York City Department of Transportation web page on bicycling in our host city includes information on how to plan a route. You can find it by clicking HERE
Last updated: January 31, 2015