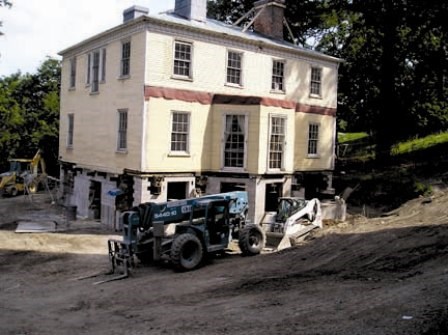 Hamilton Grange National Memorial was sited over its new foundation on June 27, 2008.
Since that time, the contractor has repaired the timber support sills, girts and floor joists. In addition, the exterior and interior masonry block foundation walls have been constructed up to the underside of the timber support framing in all locations except where steel I-beams and support cribbing/blocking remain.
During the week of August 4, Wolfe House & Building Movers will return to St. Nicholas Park to remove the last of the I-beams and cribbing. The contractor will then be able to finish the masonry block foundation. This is a major milestone for the Grange as work on site utilities and drainage can be completed. With all these pieces in place, the exterior restoration of the home can then begin.
The past four weeks have also seen the replacement of street lights on Convent Avenue and 141 st Street as well as the final cleanup of the Convent Avenue site.
Over the next two weeks the National Park Service hopes to complete the interim treatment for the Convent Avenue site. The interim treatment includes site grading and seeding in addition to the replacement of the iron fence and gate in the front and rear of the property