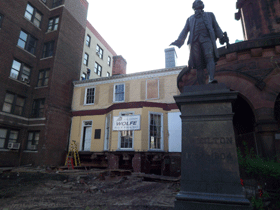 The National Park Service is pleased to announce that Hamilton Grange National Memorial will soon make the long-anticipated and historic journey from Convent Avenue to its new home in St. Nicholas Park. Beginning around May 26, 2008 (date subject to change) and lasting until approximately June 6, 2008, Alexander Hamilton's home will be lifted in one piece up and over the porch of St. Luke's Episcopal Church and onto Convent Avenue. On Saturday morning, June 7, the Grange will move south on Convent Avenue, turn east onto 141st Street and then right into the northwest corner of St. Nicholas Park, where preparations will begin to place the Grange onto its new foundation.
The National Park Service (NPS) has been working closely with the New York City Department of Parks & Recreation, NYPD, FDNY, City College of New York, the Department of Transportation and others, to ensure the safety of the Grange's valued neighbors and to minimize disruptions during the move. What follows is the current move schedule and projected street closures that may directly or indirectly impact the neighborhood.
MOVE SCHEDULE - May 26 through June 7, 2008: (Please keep in mind that the move is a complex operation and unforeseen events, such as severe weather, could result in changes to the schedule)
Phase 1: Currently in place until May 26
East side of Convent Avenue sidewalk in front of the Grange is closed.
Phase 2: May 26 to June 6
Convent Avenue will be closed to vehicular traffic from West 142nd Street to West 141st Street. The west side sidewalk of Convent Avenue will remain open to residents and pedestrian thru traffic.
Phase 3: 9:00 am Friday, June 6 to 6:00 pm Saturday, June 7
Convent Avenue will be closed to vehicular traffic from West 142nd Street to south side of West 141st Street, but will be open to residents ONLY, under contractor escort. West 141st Street will be closed for vehicular traffic from St. Nicholas Ave. to Amsterdam Ave. Pedestrian traffic will be allowed from St. Nicholas Ave. up to within 100' of Hamilton Terrace (with limited and controlled access for residences) and from Amsterdam Ave. to just west of Convent Ave. Vehicular access onto Hamilton Terrace off of West 141st Street will be closed except for emergency vehicles. By 6:00 pm Saturday, all streets will be fully re-opened to vehicles and pedestrians.
*Emergency vehicles and/or personnel will have access to all affected streets and residences throughout each phase of the move.
Public Meeting – Thursday, May 8, 6:00 to 8:00 pm
For a more detailed presentation of the move and to answer your questions and concerns, the NPS will hold a public meeting on Thursday, May 8, 2008 from 6:00 pm to 8:00 pm in Room 250, Shepard Hall, City College of New York.
We appreciate your patience as we move one step closer to moving the Grange. We will keep you continually updated with changes or new information. We hope to see you at the public meeting on May 8. In the meantime, if you should have any questions please contact Darren Boch at Darren_Boch@nps.gov or 212-668-2251 or Albert Atchison at 212-666-1640.