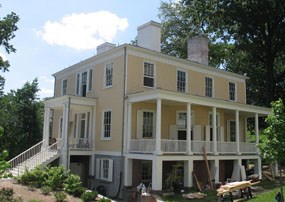 Hamilton Grange National Memorial has re-opened following its nearly 5 year closure for a historic move and restoration. Below you may find updates about the site during the process.
Convent Avenue Reuse
Update/Call for input -- May 25, 2011
Possibilities Envisioned -- Public Input Overview
Public Meeting Comments -- December 11, 2008
Public Input Sought for Convent Avenue Reuse
Handout from December 11, 2008 Public Meeting
Restoration Updates
Move Releases
See video highlights of the move below.
June 9, 2008: A walk-through of the relocation of Alexander Hamilton's 206-year-old home, the Grange, to its new home in St. Nicholas Park. Source: New York Times on-line story.