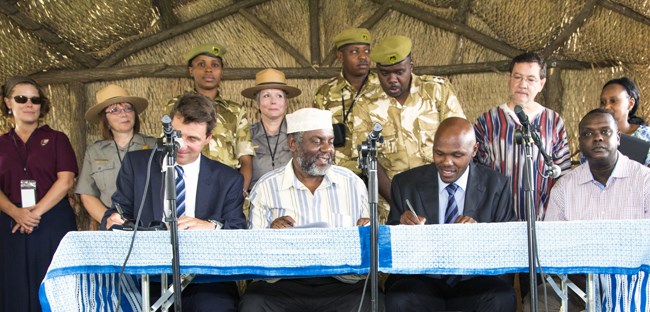 Sister Park Agreement Signed Between
Sibiloi National Park and Hagerman Fossil Beds National Monument
2014 Smithsonian Folklife Festival, Washington, D.C.
June 27, 2014
Officials from Kenya Wildlife Service (KWS) and National Museums of Kenya and the U.S. National Park Service (NPS) signed a Sister Park Agreement between Sibiloi National Park in Northern Kenya and Hagerman Fossil Beds National Monument in the United States on June 27. The alliance joins together the Kenya Wildlife Service, National Museums of Kenya, and U.S. National Park Service, and is the first of its kind between the United States and any African country. The five year agreement between the sister parks will increase information sharing and direct park-to-park contacts to address issues the parks share in common. Both parks are known for their important terrestrial paleontological localities and have produced fossils that represent a large diversity of species.
The signing ceremony took place during the Smithsonian Folklife Festival in Washington, D.C., which highlighted Kenya. NPS Deputy Regional Director Chip Jenkins and Hagerman Fossil Beds National Monument Superintendent Judy Geniac joined Kenyan Ambassador Jean Kamau, KWS Deputy Director for Strategy and Change Edwin Wanyonyi and Dr. Ahmed Yassin of from the National Museums of Kenya for the signing ceremony.
"These two sites have significant fossils, history, and current-day resources," said Geniac. "Research in both locations is helping the world to understanding past climate fluctuations and species' responses, something that may help us address the world's future."
"We are happy to be associated with U.S. National Park Service for this historic signing of the sister parks relationship between Sibiloi National and Hagerman," Deputy Director Wanyonyi said. "The Sister Parks Agreement we are signing today will go a long way in strengthening relationships between Kenya Wildlife Service and U.S. National Parks Service and reaffirms our commitment to conserve the last great species and places for posterity."
Part of the reason for the Sister Parks initiative is sharing paleontological research between the two countries. Hagerman and Sibiloi dig sites are around the same period in the fossil record and include some of the same species of extinct animals and plants. The parks will exchange technical and professional knowledge, collaborate, and share experiences. Shared information may include best practices and advancements in park management, customer service, conservation, data collection techniques, and tourism development.
Hagerman Fossil Beds, located in the Hagerman Valley of south central Idaho, is site to one of the world's richest fossil deposits from the early to middle Pliocene epoch. Hagerman's fossils come from a largely continuous, undisturbed stratigraphic record that spans approximately one million years and provides data applicable for modeling present and future climatic and environmental change and ecosystem response at the local and global level.
It is best known for its preservation of several hundred individuals of Equus simplicidens, which is the earliest example of the modern horse genus. Over 60,000 specimens are housed in collection facilities on-site with additional specimens at museums across the United States and around the world.
Sibiloi National Park is on the northeastern shore of Lake Turkana in Northern Kenya approximately 800 kilometers from Nairobi. The fossiliferous Koobi Fora region contains sites of paleontological and paleoanthropological significance with over ten thousand fossils, including hominid fossils, recovered.The area is called the "cradle of mankind" for the early hominid skeletons unearthed there such as Turkana Boy (Homo erectus).

Sibiloi's fossils provide an opportunity to trace the evolution of numerous mammalian lineages back in time and to study the effects of climate change and human activity on local fauna. Sibiloi is also known for its Petrified Forest which draws tourists from around the world.
For more information about Sibiloi, visit them at: http://www.sibiloi.com/
or: http://www.kws.go.ke/content/sibiloi-national-park
For more information about Sister Parks, visit them at: https://www.nps.gov/oia