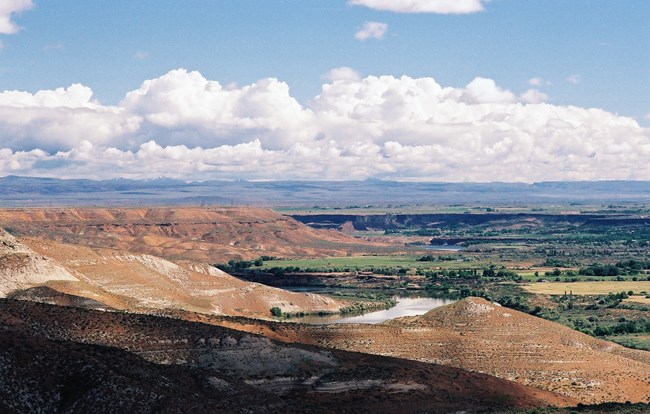 Visitors to Hagerman Fossil Beds National Monument will have opportunities to:
contemplate, relax, and enjoy monument resources without pressure.
have a safe visit and have their comfort needs met.
find their way around the monument without assistance.
learn about monument themes in ways appropriate to their ages and abilities.
interact with the monument staff informally and formally.
visit and interact with representative pieces of the scientific collection of fossils regardless of physical ability.
view fossils being scientifically prepared.
discover the scientific and educational values associated with fossils and other national monument resources.
see and experience the present day Hagerman Fossil Beds ecosystem.
become involved with the preservation of the monument and support the protection of fossils and other resources.
mirror the scientific method for fossil study by attempting hands-on examination of fossils, casts, or representative bones.
experience solitude and unencumbered views of landscapes and night skies.
view park resources from the Snake River.
Purchase fossil replicas and unique items to bring home and extend their visit.
assist with management of current park flora/fauna.
relate to Hagerman Fossil Bed's Sister Park, Sibiloi National Park in Kenya, and discoveries being made there.
purchase books and other publications, receive park produced bulletins and flyers, access web based materials, and explore information sources related to the park on their own.
gain an understanding of how the park's fossils are part of world research on fossils.
use measuring instruments, microscopes, and field tools to better understand the importance of scientific tools and methodology.
solve 'scenarios' posed at visitor center stations to distinguish how sediments tell the story of climate change, lacustrine (lake) deposition processes, and other river and lake processes such as chemical and physical changes.
view changes over time in the fossil bed area using wayside exhibits and park produced publications.
discuss the importance of the Pliocene epoch and evolution, adaptations, the extinction of life and how that relates to today's climate and climate changes using social media.
correlate the relationship between the landforms and features viewed at Hagerman Fossil Beds National Monument today to ancient fossil deposition.
attend programs and special events that may stimulate advocacy for land management practices.
analyze how humans have adapted to and impacted the physical setting of Hagerman Fossil Beds.