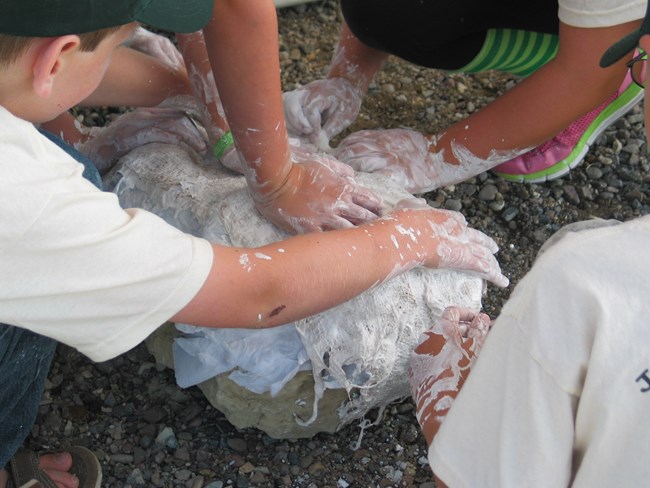 Overview of this element
Interpretive themes capture the essence of Hagerman Fossil Beds National Monument's significance. They include the most important stories and represent core messages that every visitor should have the opportunity to experience. Themes explore the meanings behind the facts. They open minds to new ideas and to multiple points of view. Themes encourage visitors to see themselves in the park's stories and discover personal relevance.
Hagerman themes outlined during the Foundation Document creation
Research and exploration at Hagerman Fossil Beds allow paleontologists, other scientists, park staff, and visitors to discover and understand evolutionary relationships, species distributions, and animal behavior both at the site and elsewhere in the world.
The monument is a window into the Pliocene past; a diverse array of fossils of animals (such as the Hagerman Horse) and plants that allows scientists to reconstruct ancient landscapes, revealing relationships between species in lake, wetland, riverine, woodland, and grassland environments.
Past and present geologic processes that formed the current landscape at Hagerman first preserved and are now exposing fossils, providing scientists, staff, and visitors with the ability to view, study, and understand Hagerman's remarkable fossil record.
The fossil record at Hagerman provides an opportunity for visitors to explore the "life of a fossil": the chemical, physical, and biologic processes that created the right environment for its fossilization, and the events leading up to its discovery.
Fossils are fragile and, once destroyed, can never be replaced. When a fossil is removed without scientific documentation, paleontologists are unable to piece together the relationships between specific plants, animals, and their environments. Stewardship of the fossils and respect for other monument resources are everyone's responsibility.
Hagerman Fossil Beds National Monument was set aside for scientific research because its Pliocene fossils provide the opportunity to understand an important portion of the history of life. The fossils include animals with ties to Eurasia, South America, and Africa, as well as many species that live in the Hagerman Valley today.
People have lived in the Hagerman Valley for at least 10,000 years; their presence is recorded on the landscape in various ways.
The Pliocene epoch provides compelling evidence of the impact of climate change on animals and plants similar to those found in the world today. Hagerman Fossil Beds National Monument offers a venue for discussing the effects of past, current, and future climate change.
For more details
Appendix C
is an Interpretive Theme Matrix that describes each theme statement using examples of concepts or ideas appropriate to the theme and examples of topics and stories that fit within each theme.