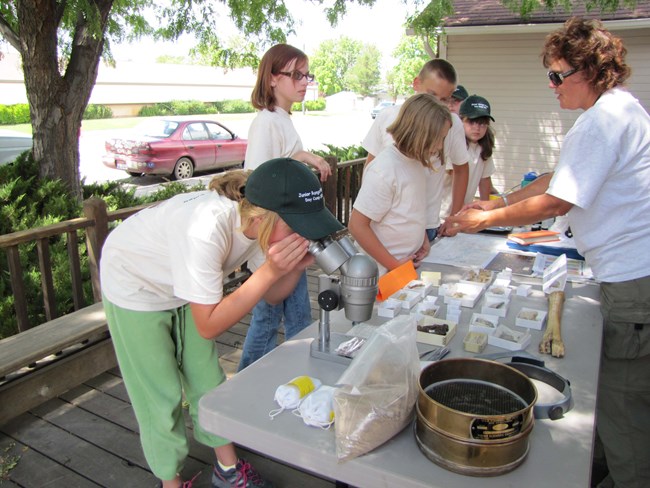 Hagerman Fossil Beds National Monument has many assets upon which to build an effective interpretive program, including evocative and compelling stories, outstanding natural and cultural resources, ongoing research, and dedicated staff and supporters. It also faces a number of challenges. Well-designed programs can build on interpretive strengths to help overcome these challenges.
Future audiences may have different expectations and needs for media and technology to better understand area stories and to make connections with area resources.
Due to budget shortfalls and curriculum mandates, schools may not be able to come to the park so outreach alternatives will need to be identified. For example, the park may provide the resources so the teachers can develop lessons and present them to the students. Virtual tours, Distance Learning, and other options need to be evaluated and established with the assistance of partners or other NPS resources.
Visitor motivations for spending their leisure time are changing. As more demands are being placed on free time there is a limited amount of time available to participate in interpretive and educational activities and programs. Offering a range of options including recreational as well as targeted interpretive activities is necessary.

The lack of access to the resources, both the physical fossil beds and the paleontology laboratory, due primarily to safety concerns, adds constraints to public presentations and interaction with the park. Studies on the effect of Radon exposure due to fossils, as well as mitigation techniques to minimize or negate exposure need to be explored. Safety related to the unstable grounds that constitute the fossil beds, without damaging the resources, needs considerable examination.

Partnerships will be the backbone for implementing this interpretive plan. Existing partnerships will need to be strengthened and maintained. New partnerships will need to be identified and established. Park staff and partners will need to collaborate and work together to provide interpretive programs and services. Sharing the expertise of the park staff with partners will build an appreciative and responsive support base for the park and park policies.

As fiscal budgets tighten, Park staff and partners will need to develop business strategies and consider new, different, perhaps entrepreneurial fee-based ways to provide interpretive and educational services.