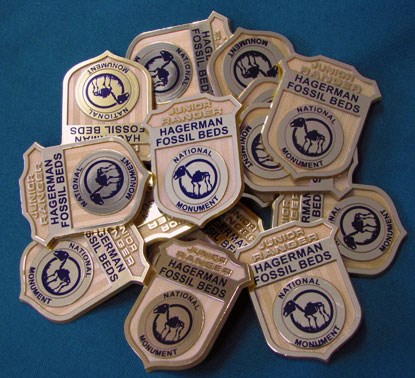 Hagerman Fossil Beds National Monument thinks Junior Rangers are special people. Anyone is welcome to participate in our programs. Park visitors between the ages of 6 and 12 years old are especially invited to become a Hagerman Fossil Beds Junior Ranger.

There are a variety of activities to do on the way to becoming a Junior Ranger. You can take a short hike, visit the Monument on the self-guided auto tour, or search the Visitor Center for correct answers to questions in the Junior Ranger book. All Junior Ranger work helps you to learn about Hagerman Fossil Beds National Monument and how to take care of your National Parks.

Junior Ranger books are available for free at the Hagerman Fossil Beds Visitor Center. Work to earn your badge takes about 1 hour to complete. Be sure to stop by, see the Hagerman Horse and other displays, and become a Junior Ranger!