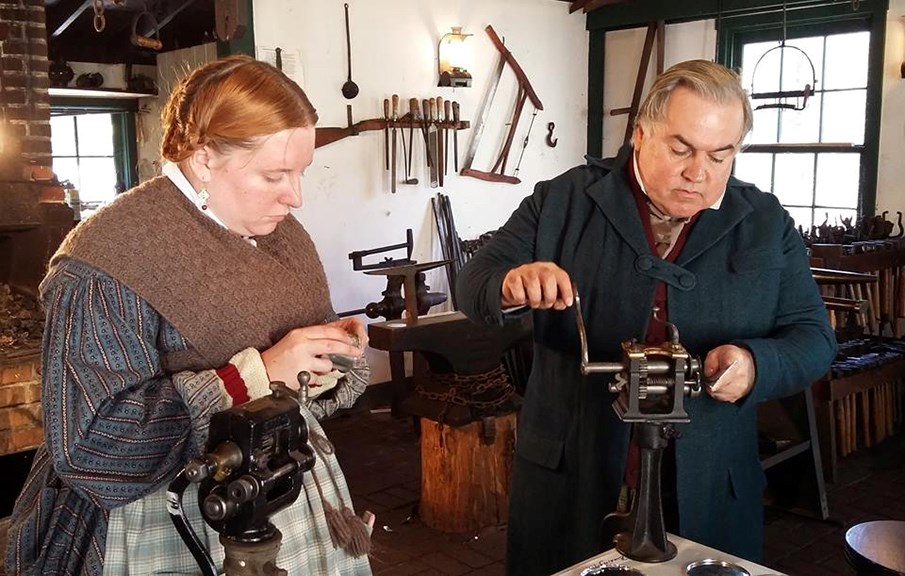 The Harpers Ferry Park Association (HFPA), specially skilled park rangers, and contractors offer workshops throughout the year that focus on 19th century trades.
Many of these workshops require pre-registration and payment with the HFPA. To register, call 304-535-6881 or visit the HFPA website.

American as Apple Pie
March 25, 2017 | 1:00pm to 4:00pm | Lower Town, Roeder's Confectionery
Instructors: Park Ranger Melinda Day
Workshop Fee: $50.00 per person (Minimum age to participate is 12 years old with a registered adult) Includes baking ingredients and instruction in oven management.
Registration closes on March 17, 2017
Class Size: Limited to 6 participants
Description: Step back in time and work in a historic bakery and sweetshop. Learn to make pie the 1860 way with a wood or coal stove. Enjoy a slice of hot fruit pie that you have made. Learn how the diversity and nutritional value of American apples changed due to the town's industrial revolution carbon footprint.
---
The Art of the Forge: A Blacksmith Workshop
Two-day workshop | June 10-11, 2017 | 10:00am – 4:00pm | Lower Town, Blacksmith Shop
Instructor: David Dufficy
Workshop Fee: $150.00 per person (Minimum age to participate is 18 years old) Includes materials, supplies and instruction.
Registration closes on June 3, 2017
Class Size: Limited to 6 participants
Description: Nineteenth century blacksmiths were crucial. Their trade varied from keeping doors on hinges and wagons in proper working order to making weapons for the town's US Armory for national defense. Learn this historic trade and echo the clang of the hammer on hot iron - just as they did 150 years ago!
---
Grand Civic and Military Barbeque
October 14, 2017 | 12:00pm – 2:00pm | Lower Town
Historic Experience Fee: $20.00 per person. Includes 19th century style barbecue meal and program.
Registration closes on October 7, 2017
Size of event: 100 people can participate in this historic experience and program.
Description: Experience this catered mid-19th century citizen and military barbecue and learn how locals reacted to abolitionist John Brown's Raid in October, 1859.

---
"While Visions of Sugar Plums Danced in Their Heads"
December 2 and 3, 2017 | First class each day: 11:00am to 1:00pm Second class each day: 2:00pm to 4:00pm | Roeder's Confectionery on High Street
Instructor: Carol Anderson
Workshop Fee: $25.00 per person (Children under 6 years old may attend for free with a registered adult) Includes supplies for candy recipes and instruction from a foodways expert.
Registration closes on November 25, 2017
Class Size: Limited to 4 participants per class
Description: A Victorian candy-making workshop. Learn the art and mystery of the confectioner's Yuletide trade of making treats. Explore the world of sugar work and making of clear toy candy.