For Kids
Explore - Discover - Imagine - Play
Harpers Ferry National Historical park offers a wide choice of experiences for young people. From nature to history, from mountain hikes to river fishing, from ruined villages to quaint shops, from trains to canals, from battlefields to schoolyards, this town captures some of the most moving American stories ever told.
Come churn butter, play lawn crochet, become a soldier, tend a garden, talk to a Union soldier, hear the rattle of muskets, hike to Jefferson Rock, visit Mr. Harper's grave, or stroll through silent ruins; all these await you! Look for the summer schedule of events to discover when activities are scheduled!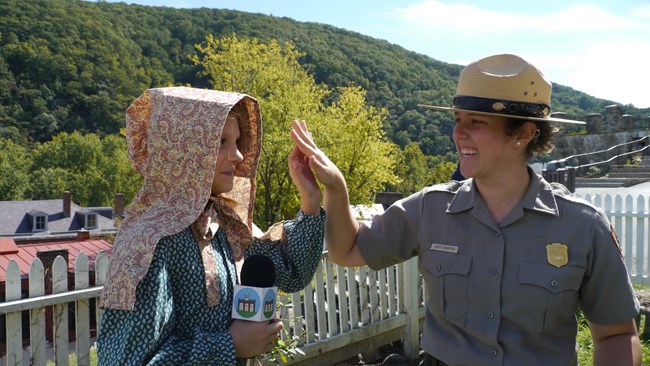 Summer 2013 Activities
Theatre in the Park
The past is alive in Harpers Ferry! As you travel through the park, stumble upon scenes from Harpers Ferry's past. Costumed park staff and volunteers present historical vignettes between 11 a.m. and 4 p.m. Wed-Sun. Exact times and location change daily. This is a joint project within the Interpretive Division in the park. Staff from the Education, Living History, and Visitor Services branches are responsible for creating, preparing, and presenting their own amateur theatre productions. Through August 10, 2013.
Reporter on the Scene
This just in…Harpers Ferry National Historical Park is hosting its second season of Reporter on the Scene! On Saturdays and Sundays through August 10th from 11am to 3pm, children are invited to become news correspondents in Harpers Ferry in 1863. We will have a makeup and dressing session to make sure you look your best in period clothing! Act like a reporter with your own camera crew and see yourself as part of a broadcast on YouTube later in the summer (a photo release will need to be signed by a parent or guardian). Coaching for the lines will be provided to ensure a stress-free environment for all reading levels. The question now is, will you become one of our reporters? Through August 10, 2013.
Junior Ranger Days
Become a Junior Ranger at Harpers Ferry National Historical Park! Visit the park Visitor Center or Information Center to receive your Jr. Ranger book and earn a badge! Throughout the summer we will offer special Junior Ranger activities. Activities might include a puppet show, gardening activity, Civil War baseball, or a family friendly hike! Times and activities will change weekly—contact us at 304-535-6266 or check the park Facebook page for the weekly schedule.
Last updated: April 10, 2015