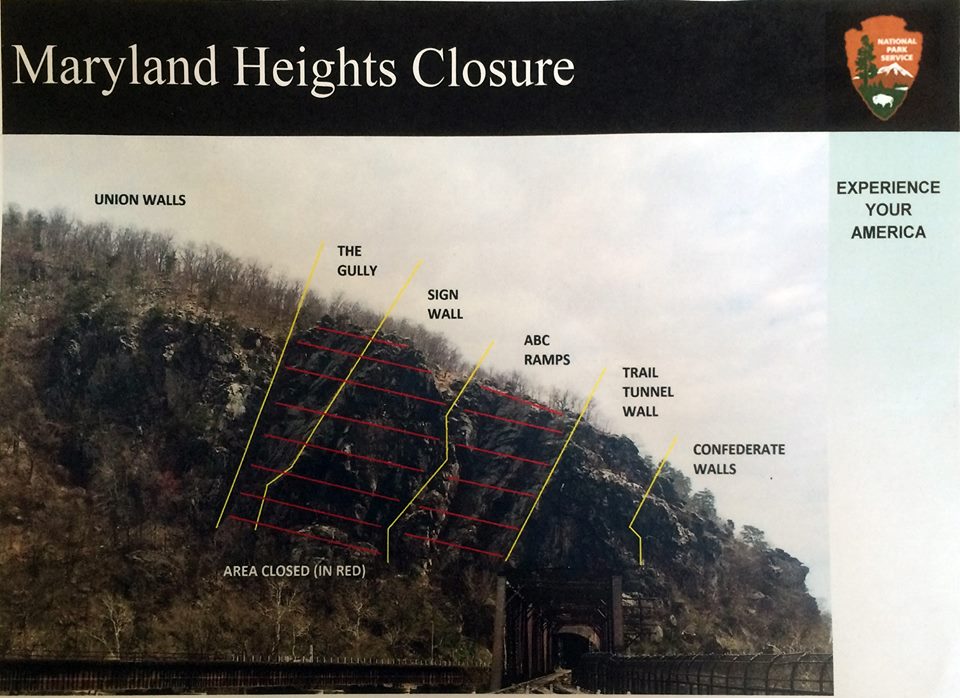 News Release Date:
March 1, 2016
Contact: Sean Isham, Acting Chief Ranger, 304-535-6224
Contact: Mia Parsons, Chief of Resource Management, 304-535-6224
A pair of Peregrine falcons is attempting to nest on the cliff face of Maryland Heights in Harpers Ferry National Historical Park. Park and US Fish and Wildlife staff have observed the falcons building what appears to be a nest on the cliff face.
To protect the nesting birds from inadvertent disturbance or harassment, areas in and around the cliff face of Maryland Heights will be closed effective March 1. The areas will be closed to all visitor use, including climbing activities, along the cliff face area. The climbing areas affected by the closure include all the routes in the Gully, Sign Wall and ABC Ramps sections. The Overlook Trail on Maryland Heights will remain open, but the areas at the lower reaches of the Overlook site on Maryland Heights that provides access to the upper cliff regions is closed. These areas will remain closed until approximately five weeks after the chicks take their first flights, or fledge, from their nests. The re-opening of these areas is expected around mid-August. The climbing routes in the areas of the Union Wall, Train Tunnel Wall and Confederate Walls will remain open at this time. Information on the closed area will be posted at the Park Information Center, Visitor Center, park website and social media sites.
In 2000, the park attempted a reintroduction program of peregrine falcons to Maryland Heights. While peregrines were introduced back into the area, there were no documented cases of those falcons coming back to the Maryland Heights for nesting. Last year was the first times peregrines have been seen attempting to use the Maryland Heights cliff face for nesting since that program ended. Although no fledglings were produced last year, the fact that the falcons remained and are attempting to nest this year is very hopeful.
The park will announce the reopening of the closed areas upon determining that the fledglings from this year have become independent of their parents and human activities will not harm or disrupt their further development. For more information call (304) 535-6224.