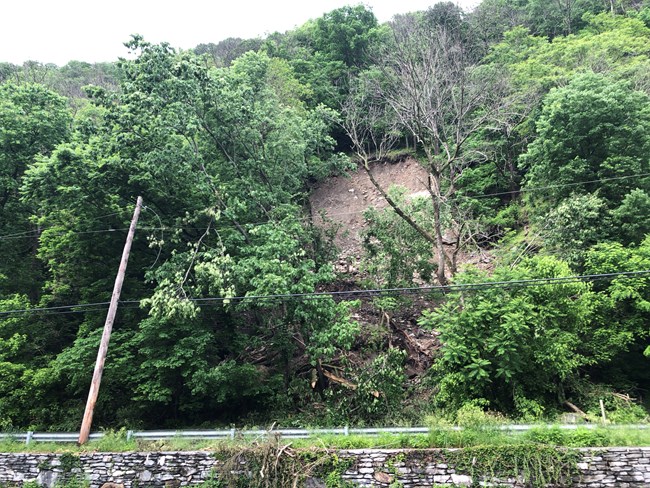 The National Park Service is continuing to monitor dynamic conditions of a landslide near Maryland Heights along Harpers Ferry Road/Sandy Hook Road while actively working with a variety of experts to determine the best way to stabilize the slope so Washington County Public Works can safely reopen the road.
A 100 foot by 100 foot section of the hillside below Maryland Heights slid following two days of unusually heavy rainfall. From May 15-17 over 15 inches of rain fell in southern Washington County, Maryland; that's more than double the typical total rainfall for all of May! Since then, the region has continued to experience uncharacteristically high amounts of precipitation causing flooding in the area and further instability of the slope.
Continuously changing conditions have made it difficult for stabilization work to begin, but the National Park Service will be working to remove loose materials as well as repair the downed utilities in order to reduce the hazards in the area from just north of Hoffmaster Road to Clark Road. However, slope stabilization is needed before crews can safely access the area to perform work.
The popular Maryland Heights hiking trail remains open as it does not cross Sandy Hook Road in the area of the landslide. National park rangers continue to monitor the situation and the trail may close if safety becomes a concern.
While we do not know when conditions will allow the road to safely reopen, we are committed to working as quickly as possible to reopen this vital transportation link.
For the most current status of Harpers Ferry Road/Sandy Hook Road please visit the
Washington County, Maryland Flood Recovery Updates website
.