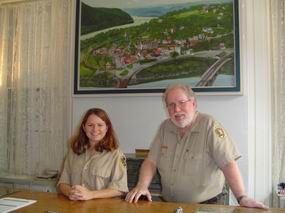 Volunteers in Visitor Services are in constant contact with the visiting public, working on the front-line, answering questions related to the national significance of the park and providing information on the local area. Visitor Services volunteers also work outside roving along the sidewalks and trails, keeping a watchful eye on the park resources, meeting visitors informally and helping the visitors have an enjoyable park experience.
Park Guide Volunteer
Park Guides help the visiting public both begin and enhance their National Park experience.
Trail Guide Volunteer
Trail Guides hike park trails to provide information, orientation and interpretation to visitors, and to monitor trail conditions.
Visitor Services Bus Volunteer
Bus Volunteers will ride park shuttle buses, meeting and greeting park visitors as the visitors take a journey through the history and landscape associated with Harpers Ferry.
Contact:
Phone: 304-535-6282
E-mail: e-mail us