Sydney Peden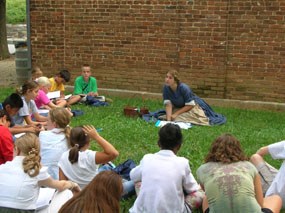 I spent my summer internship working for Harpers Ferry National Historical Park. My supervisor there was Catherine Bragaw, the education specialist. The park was a great space for interpretative work, and our curriculum based programs stemmed from the Park's six pervasive themes. While maintaining its mission of protecting and preserving the natural and cultural resources, the stories of this town and its history are grouped into the subjects of John Brown, the Civil War, Natural landscape, Industry, Transportation, and African American history.
An average week as an Education Intern sent me throughout the park, from the education office, into the exhibits, up to various visitor information service stations, and all around the grounds to dozens of points of interest. Mondays, Thursdays, and Fridays were office work days, punctuated with scheduled student and teacher groups. Family, come as you are, programs occurred at 12:00, and these were handled by all education staff on a rotating basis.
In addition to family and youth summer tours, I was involved in Niagara Centennial planning, research, and support. There was a Scavenger Hunt activity available on the website for printing, but I was involved in reworking this document to more accurately depict the current offering within the museums 20 odd exhibit spaces, and to include more interdisciplinary activities. Not just, 'in what year' and listing questions, but adding math, English, and puzzle elements into the mix. I was also responsible for handling the continual monitoring of our shared office answering service.
Tuesday and Wednesday were completed filled with JrNYLC (national young leaders conference). This organization conducts youth leadership training in the form of week long conferences, wherein talented middle school students from across the nation live together for a week in the Washington area. There were two groups, so the children we saw Tuesday were a different set from those on Wednesday. Arriving in 6 tour buses, the education staff divided the roughly 300 students into nine groups where we could interact with them more closely. Using the history of John Brown, and his controversial intentions, methods, and influence, we did interactive programs all day cumulating in a role playing activity where each child had the opportunity to simulate some aspect of living here during the height of the Civil War.
I think this internship was an overall fabulous experience. I enjoyed the reality and craziness of an office that never has enough resources (time, personnel, or money) but bulges with huge dreams and plans, and worked under a boss who completely understood this. Catherine Bragaw also has grand visions of where this program could be, and has worked to increase attendance in education programming. I participated in the best and worst of working for the government, with its massive intellectual resources and opportunities, as well as the specialized paper work and inherent accountabilities. The people skills and experiences I gained working, living, and interacting with the diverse staff at the Park will stay with me through the rest of my life.
Last updated: April 10, 2015