Social Media & Web Management Internship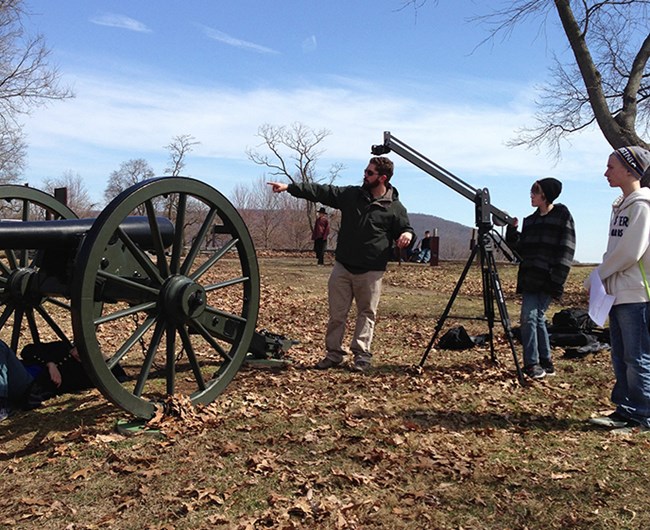 Introduction
The Social Media & Web Management Intern position will last for 12 weeks (start and end dates may vary). Park housing may be available. A $100 per week living allowance may be available. Work will be performed both in the office and outdoors. The intern will be involved with the communication of park messages to over one million virtual visitors (annually on website and social media channels), documentation of park special events and initiatives, and development of new and innovative media with the park.
This internship will be based under the Division of Interpretation, Education, and Partnerships at Harpers Ferry National Historical Park and the supervisor will be the park's Web Manager / Social Media Specialist. The intern will have the unique opportunity to work with staff from all park divisions on a variety of projects and activities.

Duties:
Assist in creating and managing social media (Facebook, Flickr, Instagram, Twitter, and YouTube) and website content.

Capture digital photographs or video, as assigned, to document park programming and scenery and to supplement the modern photo/video collection.

Organize, tag, and archive digital assets

Follow DOI, NPS, and Harpers Ferry NHP social media guidelines on usage and management.

Agree that all photo/videos/social media content are property of the National Park Service; sign waiver to rights of all content created during the course of the internship.

Work respectfully with people of all ages and backgrounds.
Seasons and Application Deadline(s)
Season: Summer
Deadline: March 1
Season: Fall
Deadline: July 15

Season: Winter/Spring
Deadline: November 15
Knowledge, Skills, and Abilities (Required):
High school diploma required.

Possess a current driver's license.

Possess an intermediate knowledge of working with computers, both PC and Mac, and data management programs (Word, Excel, Access, etc.)

Have experience using social media sites.

Communicate effectively, both verbally and in writing.

Able to perform work both in an office and outdoors.

Be friendly, polite, respectful, and enjoy working with people.

Be able to work independently.

Be reliable, punctual, and represent the National Park Service in a professional manner.

Be able to follow direction and work as a team member.
Knowledge, Skills, and Abilities (Preferred):
College degree or coursework toward a degree is preferred.

College coursework or professional experience in photography, communications, or public relations is a plus.

Experience working with the Adobe Creative Suite (Photoshop, InDesign, Bridge, etc.) is a plus.

Experience working with Final Cut Pro is a plus.
Contact for more information:
Web Manager / Social Media Specialist
Phone: 304-535-2908
Email
Mail: Attn: Web Manager / Social Media Specialist,
Harpers Ferry NHP,
PO Box 65 Harpers Ferry, WV 25425
Applications
Applications should include:
Cover Letter

Resumè;

Names, Relationships, and Contact Information for three Professional and/or Academic References
Cover Letter
In the cover letter please include the following:
Whether or not you require housing

Why you want to be an intern at Harpers Ferry NHP

What your objectives are

What particular type of work you would like to do

The dates you would begin and end your internship

Whether or not this internship is for school credit, if applicable, the number of hours required by your school, your advisor's name and contact info

Also please feel free to express yourself, your hopes and expectations in the cover letter.

If not selected for this internship, please indicate other internships within the park, in which you might be interested
Last updated: February 17, 2017