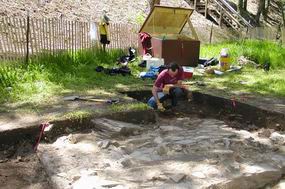 This internship involves working with the professional archeology staff at Harpers Ferry performing a variety of tasks including research, field excavations and processing artifacts in the lab. Other opportunities for mapping and computer graphics are also available. In 2005, the Archeology Program at Harpers Ferry National Historical Park began excavating the site of the U.S. Armory. This is the first of a three year project to research and uncover portions of the federal armory yard.
Summer, 10 to 12 weeks, flexible start and end dates. Dormitory housing provided free of charge, plus $80.00 weekly stipend.
Knowledge, Skills and Abilities Required: Basic knowledge of the methods and techniques of archeology; communication skills, both oral and written; ability to perform work in an outdoor setting, using a variety of hand tools; ability to walk over rough terrain and frequent bending, stooping, kneeling and lifting for fieldwork; ability to sit for long periods of time and basic word processing skills for lab work; ability to work in extreme heat and humidity in environments where snakes, biting insects, and poison ivy are present.
Duties: Perform basic supervised research; sift soil for artifact retrieval; perform basic field excavations; including, but not limited to digging, mapping, photographing and preparing written descriptions; keep daily written record of work performed; sorting, washing, labeling and bagging artifacts; perform data entry
Contact for more information: Mia Parsons (Phone: 304) 535-6167; Email: e-mail us; Mail: Harpers Ferry NHP, P.O. Box 65, Harpers Ferry, WV 25425).
Apply with resume, cover letter, and three references. In the cover letter, please include the following: whether you require housing or not, explain why you want to intern at Harpers Ferry, what your objectives are, what particular type of work you would like to do, the dates you would begin and end an internship, whether this internship is for school credit or not, if applicable, the number of hours required by your school, if applicable, the requirements of your school's internship program, if applicable, your advisor's name and contact information. Also, feel free to express yourself, your hopes and expectations in the cover letter.