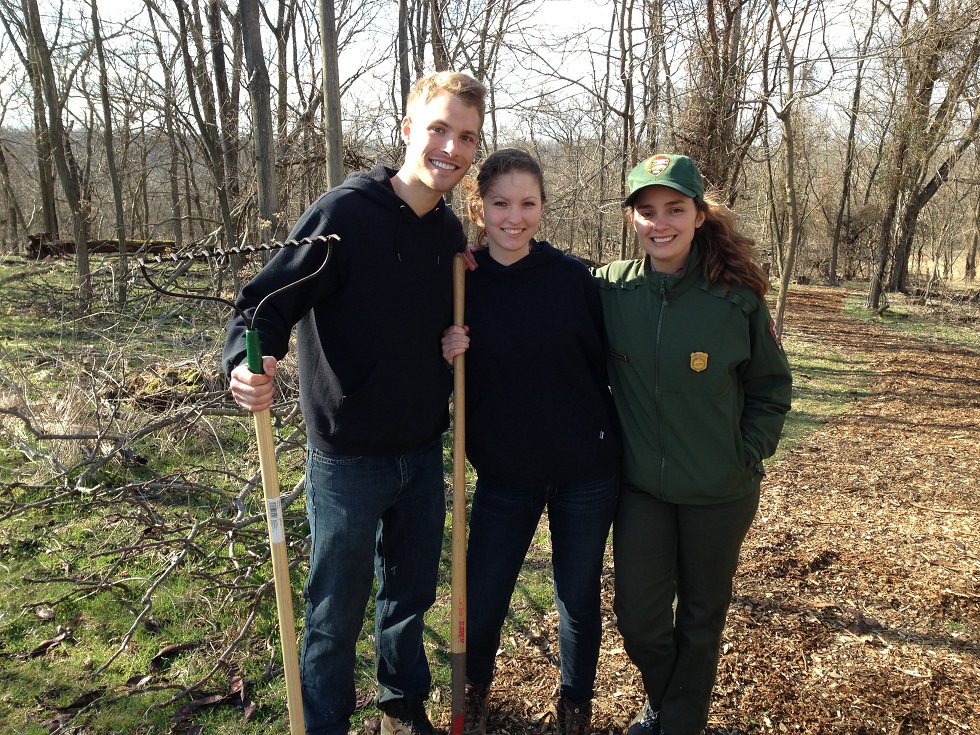 It's been a very busy first Spring in my new official job as Volunteer Coordinator here at Harpers Ferry N.H.P., and I'm loving every minute of it!
From Early March on, we've been lucky to host numerous Volunteer Crews, including Boston University and Canisius College Alternative Spring Break Crews, Church groups, Non-Profits, and many others. It's always inspiring to know how much people care about their National Parks! It's especially awesome when I have the opportunity to work with Youth and Young Adults who choose to give up their precious time to give back. Who gives up their college spring break to move mulch and clean out road ditches!? Our Volunteers, that's who! And they have a blast doing it. 
One of my favorite things we've done so far was back in March when we had the opportunity to partner with the Potomac Appalachian Trail Club (PATC)  on an Alternative Spring Break project for Boston University students. We traveled across the river for a day in Loudoun County, VA to visit the Blackburn Trail Center Cabin and clean the leaves and debris out of the road ditches of the private road leading up to it. Talk about some dirty work! But PATC "Trail Boss" Chris Brunton made it fun and interesting! This guy rocks. He is in charge of the Trail Center, which now primarily supports long distance Appalachian Trail (AT) hikers and trail crews. 
Originally built in 1910, the Blackburn Cabin Center was acquired by the PATC in 1979, and is now the largest trail center along the AT. Resident caretakers live on site during the AT hiking season, to watch over the property and make sure all hikers and guests are well fed and caffeinated! I have to admit I'm pretty envious of this job. The Cabin and other buildings are amazing- there is even a solar shower on site, and some of the most breathtaking views Loudoun County has to offer. Not to mention the thousands of interesting Thru-Hikers and other folks they meet. These Trail Hosts & Hotesses truly have a dream job!
It's always great giving back to the AT, since it runs right through Harpers Ferry, and we are close to the mid-point on the trail. Right now we're starting to see Thru-Hikers come through on their journey from Georgia to Maine, roughly 2,180 miles in all. No small feat. Definitely drop by the Appalachian Trail Conservancy Headquarters on Washington Street if you're in Harpers Ferry, and check out the memorabilia, photos, and more. 
Chris, the caretakers, and PATC crew are always in need of help with ongoing projects, so if interested, give him a call or email at:
703-967-2226 or trailbossbtc@msn.com
Find out more about the PATC, and how you can get involved at:
http://www.patc.net/