Closure Order 20-005
W22 GWMP, CLBA, GRFA, FOHU – VRP
Closure Order # 20-005
May 15, 2020

Closure, restrictions and public use limits

Closure Order – All of a Park Area: Under the authority provided to the Superintendent in 36 CFR 1.5, all lands administered by the National Park Service within Glen Echo Park are closed, effective immediately, from 8 pm to 6 am until June 1, 2020. (See map)

Notice: This administrative order applies to all individuals subject to the regulatory authority of the National Park Service (NPS) within the boundaries of George Washington Memorial Parkway, Clara Barton Parkway and its administrative units, including park visitors, government employees, concession employees, and stakeholders, except as follows:
Contractors performing essential business for the National Park Service (e.g. landscaping, mowing, custodial, construction)

Employees of Montgomery County in their official capacity as a park partner.

The Glen Echo Park Partnership for Arts and Culture and their sub-cooperators in their official capacity as a park partner.
Finding: The NPS issues this administrative order for the purposes of protecting park resource and facilities; and for the purpose of maintaining public health and safety during the COVID-19 pandemic emergency. This order is consistent with the following state, and federal public health directives:

World Health Organization pandemic March 11, 2020

Federal
National Emergency declaration March 13, 2020
CDC guidance regarding mass gatherings and events

Maryland
Maryland Department of Health FAQ

Governor of the State of Maryland Number 20-05-13-01

Political subdivisions are not prohibited from opening outdoor public spaces to the general public (such as parks, sports fields and courts, beaches, dog parks, and playgrounds), subject to the following:
i. The decision to do so shall be made after consultation with the health officer for the county in which the outdoor public space is located (or, in the case of outdoor public spaces located in Baltimore City, the Commissioner of Health for Baltimore City) (the "Local Health Officer")
ii. The Local Health Officer may issue such directives or orders as may be necessary to monitor, prevent, reduce the spread of, and suppress COVID19 with respect to the use of the outdoor public space ("Health Officer Directives").
iii. The political subdivision must require persons using the outdoor public space to comply with applicable Secretary's Directives, applicable Health Officer Directives, and applicable social distancing guidance published by the U.S. Centers for Disease Control and Prevention ("CDC") and the Maryland Department of Health ("MDH").
d. If a political subdivision determines that doing so is necessary and reasonable to save lives or prevent exposure to COVID-19, the political subdivision is hereby authorized to issue orders that are more restrictive than this Order ("Local Orders"):
i. requiring any businesses, organizations, establishments, or facilities to close or modify their operations; and/or
ii. requiring individuals to remain indoors or to refrain from congregating.
e. Local Orders may remain in effect for so long as this Order (as it may be amended from time to time) remains in effect. The authority granted by paragraph I.d is in addition to, not in derogation of, any authority of a political subdivision under its charter, laws, ordinances, or regulations.
Gatherings Larger Than 10 Persons Prohibited. Social, community, recreational, leisure, and sporting gatherings and events of more than 10 people ("large gatherings and events") are hereby prohibited at all locations and venues, including but not limited to parades, festivals, conventions, and fundraisers. Planned large gatherings and events must be canceled or postponed until after termination of the state of emergency and the proclamation of the catastrophic health emergency has been rescinded.

This Order does not require the closure of, or prohibit the movement of any staff or volunteer traveling to, from, or in connection with their duties at any federal, State, or local government unit, building, or facility

Montgomery County has implemented a stay-at-home order and nonessential businesses and churches are to stayed closed.

While the outdoor areas surrounding County recreation centers remain open, the public is reminded that all playgrounds are closed. Residents should not participate in team or contact sports or activities involving physical contact or sharing of equipment.
These directives require the NPS to take the actions identified above because:
Unauthorized, after hours use of the area has contributed to damage to park resources and facilities.
This order is effective immediately and will remain in effect until June 1, 2020. The effectiveness of this order will be assessed on an ongoing basis and will be modified or removed when conditions warrant.

Approval: Charles Cuvelier, Superintendent
Date: 5/15/2020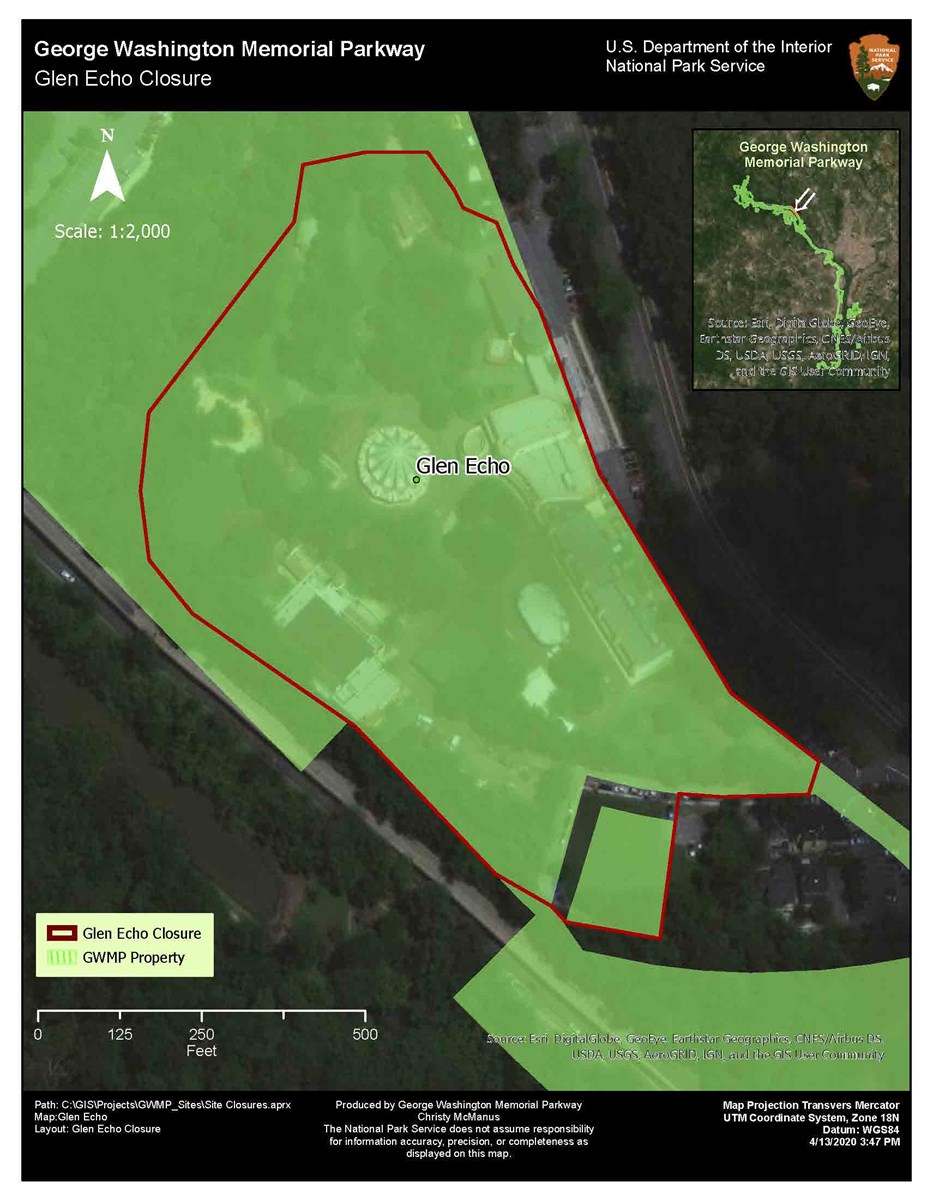 Last updated: May 15, 2020