Field Trips
Meaningful Watershed Education Experience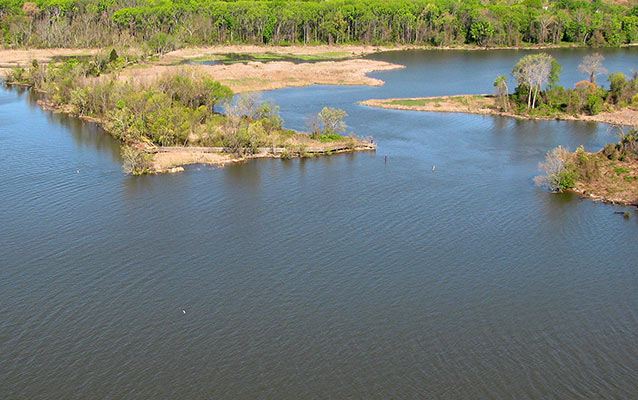 Description
This Meaningful Watershed Education Experience is a three and a half hour program that gives students hands-on experience exploring the biotic and abiotic components that make up a freshwater marsh biome. Dyke Marsh Wildlife Preserve provides an ideal setting for examining such concepts as watersheds, water quality monitoring, plant communities, erosion and sedimentation, and environmental conservation. This program is designed to provide students with the kind of field experience described in the Chesapeake 2000 agreement signed by the District of Columbia, Maryland, Pennsylvania, and Virginia.
Students will be divided into four groups that will rotate among four stations:
Testing the Waters
Students will test water for temperature, conductivity, dissolved oxygen, nitrite content, and pH to create a snapshot of water quality in the marsh. They will consider what the water in Dyke Marsh is like, how it came to be this way, and how its quality might affect the kinds of life that can grow in the marsh.
Invasive Species
Students will learn the life histories of common native and invasive species in the marsh. They will consider what kinds of plants grow in this freshwater marsh biome, how exotic plants arrive, why some exotic plants are so successful that they are considered invasive, and how invasive plants change the marsh. Volunteers will show students how to remove invasive species.
Moving a Marsh
Students will investigate the layers of sediment that lie at the bottom of Dyke Marsh. They will compare the marsh's current shape to what has it looked like in the past and consider how water and energy change the shape of the marsh over time.
People in the Marsh
Students will search for evidence of historical uses of the marsh. They will consider how each type of use has changed Dyke Marsh and influenced the type of use that came after it.
There will be a lunch break halfway through the program.
Related Documents
Pre-visit Activity: Water is the Gift that Keeps on Giving
Contact
Brent O'Neill
703-235-1530
Details
Subject:

Biodiversity, Botany, Climate, Conservation, Earth Science, Environment, Geology, Hydrology

type:

Field Trips