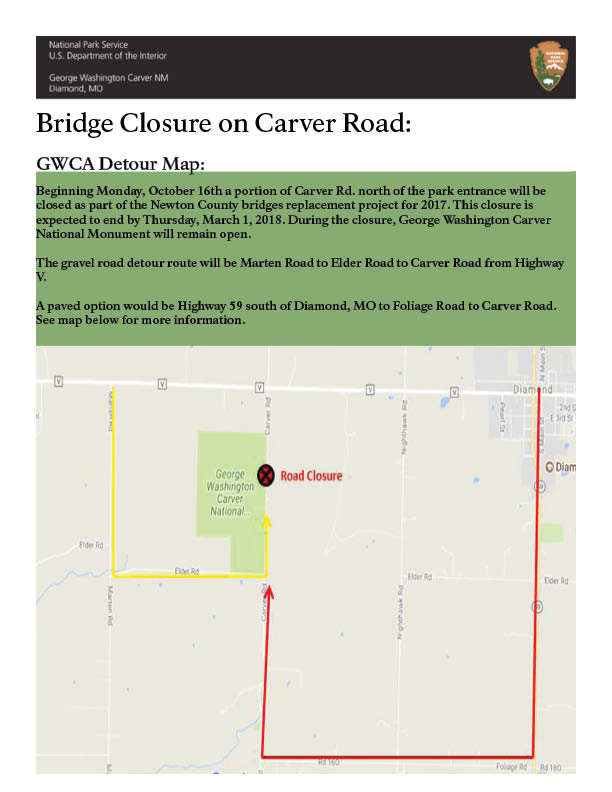 News Release Date:
October 15, 2017
Bridge replacement near park entrance to begin October 16th – park will remain open
Diamond, MO – Beginning Monday, October 16th a portion of Carver Rd. north of the park entrance will be closed as part of the Newton County bridges replacement project for 2017. This closure is expected to end by Thursday, March 1, 2018. During the closure, George Washington Carver National Monument will remain open. During this time access to the park will be from the south on Carver Road.
"We are sorry for any inconvenience. This temporary road closure is necessary to complete the bridge replacement to ensure a safe and stable roadway surface," said Jim Heaney, Park Superintendent. George Washington Carver National Monument can be accessed by traveling north on Carver Road. The shortest gravel road detour route will be Marten Road to Elder Road to Carver Road from Highway V. A longer paved option would be Highway 59 south of Diamond, MO to Foliage Road to Carver Road. Please contact the park for additional information or assistance. Updated information will be provided when available on this website and social media platforms.

Please call the park at 417-325-4151 between 9 a.m. and 5 p.m. for further information.