Fall Colors Report
Visit our keyboard shortcuts docs for details
Duration:

3 minutes, 20 seconds
Would you like to see the Fall Colors at Guadalupe Mountains National Park? Want information on why this amazing phenomenon happens? Join Ranger Amanda as she explains and takes a tour with you through our fall colors. And if you're really interested, come join us to see our fall colors in person!
2020 Fall Color Season Information
The fall colors season in Guadalupe Mountains National Park typically begins in mid-October and continues through mid-November. However, several environmental factors may affect the timing and intensity of the color change and season length - temperature, sunlight, and soil moisture.

To accommodate as many fall color visitors, please consider carpooling when possible; parking is first-come, first-serve and limited in McKittrick Canyon, Pine Springs, and Frijole Ranch. Guadalupe Mountains National Park is a U.S. Fee Area - collected fees or America the Beautiful passes are required for entrance to the national park.

Saturdays and Sundays are an extremely difficult time to visit as parking lots fill up, and visitors end up getting turned away at the gates as early as 8:15 am Mountain Time. Please consider visiting during the week for the best chances of being able to enter the park.

Current fall colors status - DONE FOR THE SEASON
What should you expect for this year's fall colors? Visit us on Facebook or on Instagram to see some of last year's photos sent by staff and visitors that captured the 2018 and 2019 fall colors here in the Guadalupes!
https://www.facebook.com/guadalupe.mountains/
https://www.instagram.com/guadalupemountainsnps/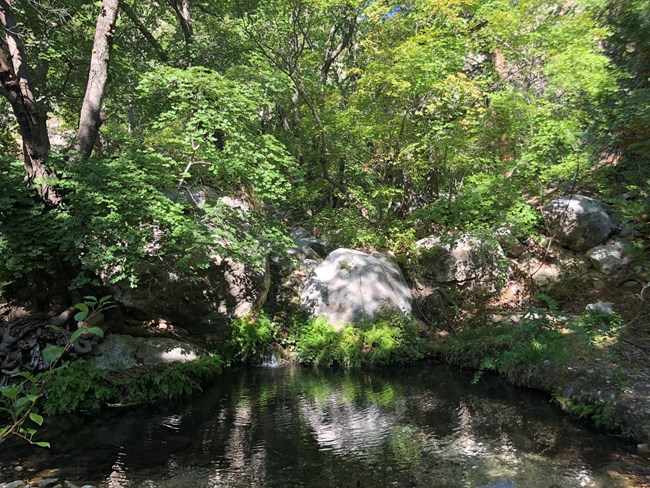 Smith Springs Fall Colors as of Oct 30, 2020 -

Little to no color change
Small pockets of color appear along the trail, a few branches within a single tree may have bright spots of color. Otherwise the trail and spring are still surrounded by green foliage.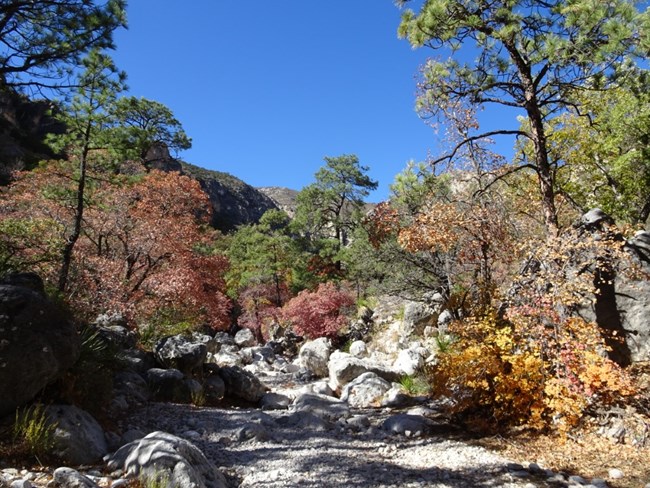 Devil's Hall Fall Colors as of October 30th, 2020 -

Fading
Pockets of color change can be seen scattered throughout the wash in various trees. The color in Devil's Hall is fading into crispy browns.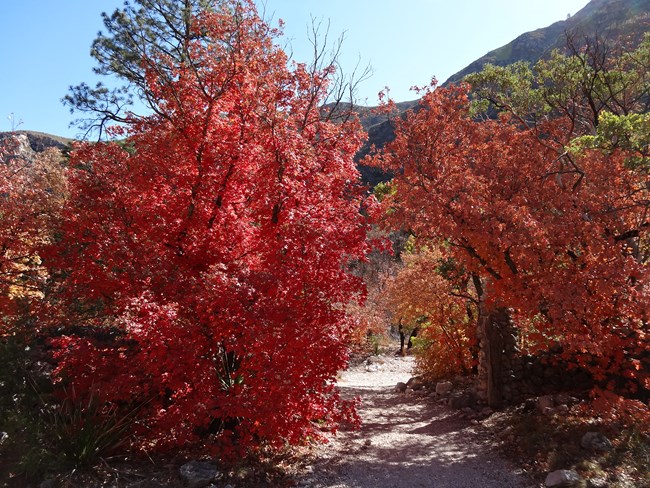 McKittrick Fall Colors as of November 7, 2020 -

Moderate Color Change
The most noticeable color change is between Pratt Cabin and the Grotto by the drainages and the creek crossings, pops of color spring up here and there but most of the trail is still green.
Last updated: April 30, 2021