Backcountry Use Permit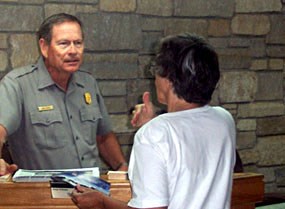 General Restrictions and Regulations
All backpackers must obtain a free Backcountry Use Permit, issued at the Pine Springs Visitor Center, or the Dog Canyon Ranger Station. Permits will be issued in person only, during normal visitor center hours, and may be obtained the day of, or the day before the proposed trip.
Permits are issued on a first come, first serve basis. During peak visitation periods permits may be in demand, so plan an alternative itinerary.
The permit authorizes camping only on designated sites in the established backcountry campgrounds. You must choose your campground(s) at the time the permit is issued. Tents must be pitched on hardened tent pads available at all campgrounds.
Fires are strictly prohibited, both wood and charcoal. Containerized fuel is the only allowable method to be used for both cooking or warming.
Pets are not permitted in the backcountry.
Use Limits
To minimize resource impact, all backcountry campground use limits are based on a standard of:
No more than 4 persons per campsite, with either one large tent or two small tents.
No more than 2 consecutive nights may be spent at any given campground.
Backcountry use permits are issued for a maximum of seven nights.


Last updated: September 24, 2012