Guadalupe Mountains National Park - Williams Ranch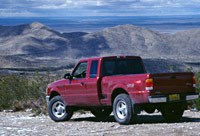 To access Williams Ranch, check out a gate key at the Pine Springs Visitor Center. Only 4X4, high ground clearance vehicles are allowed along this rough, one-lane, dirt road.
Vehicles allowed on road must be street legal, registered and have a valid license plate.

From Pine Springs visitor center, drive west on highway 62/180 for 8.3 miles to a brown metal gate off the north side of the highway; the gate has a National Park Service arrowhead logo. From the gate, the drive is 7.3 miles (one way) and takes approximately one hour. Drive through the gate and lock it behind you. Drive 0.75 miles north to another gate and lock it behind you. This is a day use area; overnight parking/camping is not allowed. Please return the key to the Pine Springs Visitor Center after completing your tour.
Please carry water, food, first aid kit, and sun protection. Make sure you have a jack and a good spare tire.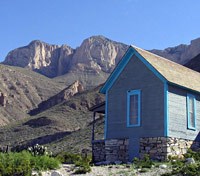 As you follow the established, but rough, dirt road you will drive through several washes and acres of open desert shrub country that includes many varieties of cacti and succulents (in bloom March and April). Drive slowly and look for birds such as loggerhead shrikes, roadrunners, and verdins. In warm weather you may spot lizards as they scurry out of the way. Jackrabbits and coyotes live in this country too, and you may see large holes near the roadway used by badgers. As the road meanders up and down small hills, outstanding views of El Capitan are showcased against majestic skies. There are two signs indicating where the road crosses the old Butterfield Stage Line. Imagine traveling through this landscape on the stage! Near the end, in the distance, the lonely Williams Ranch house stands at the base of a 3,000 foot rock cliff. The road ends at the ranch. Behind the ranch is Bone Canyon. The cliffs and slopes of the mouth are formed of the oldest rocks in the Guadalupes. As you explore around the ranch house, you may also want to hike along the El Capitain trail that will lead into Shumard canyon.
Last updated: August 5, 2018