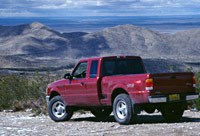 To access Williams Ranch, check out a gate key at the Pine Springs Visitor Center. Only 4X4, high ground clearance vehicles are allowed along this rough, one-lane, dirt road.
Vehicles allowed on road must be street legal, registered and have a valid license plate.

From Pine Springs visitor center, drive west on highway 62/180 for 8.3 miles to a brown metal gate off the north side of the highway; the gate has a National Park Service arrowhead logo. From the gate, the drive is 7.3 miles (one way) and takes approximately one hour. Drive through the gate and lock it behind you. Drive 0.75 miles north to another gate and lock it behind you. This is a day use area; overnight parking/camping is not allowed. Please return the key to the Pine Springs Visitor Center after completing your tour.
Please carry water, food, first aid kit, and sun protection. Make sure you have a jack and a good spare tire.