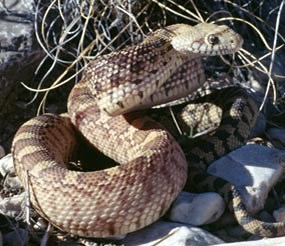 Snakes - suborder Serpentes
The Bullsnake (Pituophis melanoleucus) is the most frequently seen snake in the park. It lives both in desert flats and in the Bowl. As with most snakes, it is active in the early morning and late afternoon.
The Coachwhip (Masticophis flagellum) may be found from desert lowlands and grasslands to the base of the escarpment. This fast snake avoids areas of dense vegetation and hides in underground burrows if disturbed.
The Mountain Patchnose Snake (Salvadora grahamiae) lives in rocky areas and canyons at intermediate elevations. This common snake was believed to use its patchnose for burrowing.
Five species of rattlesnakes occur in the park. The largest is the Western Diamondback Rattlesnake (Crotalus atrox), frequently seen on the McKittrick Canyon Road and rocky washes in the lowlands. The attractive Black-tailed Rattlesnake (Crotalus molossus) is usually found on slopes, particularly at higher elevations. It is the most commonly seen rattlesnake in the park. The Rock Rattlesnake (Crotalus lepidus) prefers rocky areas in the highlands. A rare inhabitant of the grasslands at Dog Canyon is the Prairie Rattlesnake (Crotalus viridis); the Desert Massasauga (Sistrus catenatus edwardsii) also occurs in the area around Dog Canyon.
Rattlesnakes are highly venomous, but they reserve their poison for prey unless threatened into a defensive action. Make sure to allow plenty of space for the snake to escape if you encounter one of these beautiful reptiles.