Buffalo Soldiers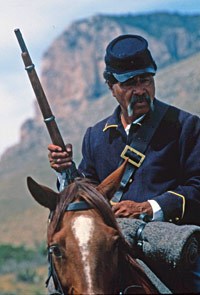 A Clash of Cultures
As settlers, cattle drivers, and stage lines began to invade and claim lands in West Texas, the Mescalero Apaches tried to defend their lands by raiding and attacking stages and settlements. In response, the Federal Government ordered thousands of soldiers and cavalrymen to the west to establish forts that would protect travelers and settlers from the threat of Indian attacks.
Buffalo Soldiers
At the conclusion of the Civil War, many African American soldiers who remained in the U.S. Army were organized into segregated units. These units, commanded by white officers, consistently received some of the worst duties that the Army had to offer. Several of these units, including the 9th and 10th cavalry, were put into service to control Indian hostilities on the Great Plains. It is ironic that these black soldiers, who had just recently gained their own freedom, were now ordered to take freedom away from a group of people who had known it all their lives.
The Cheyenne Indians called these black regiments "Buffalo Soldiers" because of their dark skin, curly hair, and fierce fighting spirit. These soldiers were subjected to unimaginable hardships as well as never-ending prejudice. Over the twenty or so years that they waged war on the Indians in the west, the Buffalo Soldiers made many forays into the Guadalupe Mountains. Military patrols in these rugged mountains were long and arduous with a limited amount of food and water available. Aside from fighting with the Mescaleros, the Buffalo Soldiers were responsible for exploring and mapping much of this little known region. These courageous men played an important role in bringing about the settlement of the American West.
Last updated: February 24, 2015