Guadalupe Mountains National Park - Ship-On-The-Desert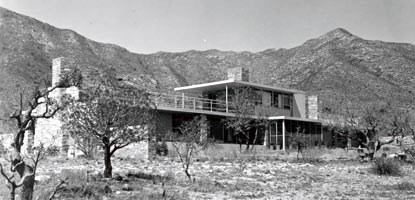 In 1921, Wallace E. Pratt, Humble Oil & Refining Company's first geologist, and two associates bought land that included part of McKittrick Canyon within the Guadalupe Mountains of West Texas. At the height of the depression, his partners decided to sell their interest and Mr. Pratt bought them out. He assumed complete ownership in 1930.

In 1930 Wallace Pratt built a stone cabin in McKittrick Canyon at the confluence of north and south McKittrick Creek. Pratt used this vacation lodge as a family get-a-way retreat from the hot humid summers of Houston, Texas, his permanent home at the time. When Wallace Pratt retired in 1945, he and his wife moved to McKittrick Canyon and used the cabin as their home for a brief time, but eventually, severe flooding of the creek convinced Mr. Pratt to build another home on higher ground outside the canyon.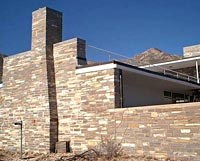 Construction of the second home, Ship-On-The Desert, began in 1941. The onset of World War II halted construction until 1945 when full-scale construction started again. A New York City architect named Newton Bevin was hired by Mr. Pratt to build his second home. Mr. Bevin and his wife, Elizabeth lived on site and supervised the construction of the stone building. Mr. Pratt stated "The architect literally put each stone in place, so distributing the various shades of soft gray and brown rock tints as to yield a pleasing harmony".
The building's ground floor plan is a narrow rectangle, only 16wide x 110 feet long, and consists of a single story with a flat deck roof. On both sides, the deck extends out to cover a paved, semi-enclosed gallery. This gallery is eight feet wide, and runs the full length of the structure. The long axis is oriented south-southwest into the prevailing wind.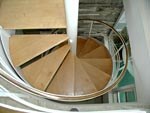 Inside the dining room, the captain's bridge arises from the main deck into a small, glassed-in second story room. Detached from the main building is a two-car garage with a small spare bedroom that was sometimes used as a guest bedroom. The principal construction material was the natural building blocks (McCombs and Radar limestone) collected from the surrounding countryside.
The building was completed in 1945 and Mr. Pratt lived there until ill health required him to move to Tucson, Arizona in 1963. He died at his home in Tucson on December 25, 1981 at 96 years of age.
Last updated: February 24, 2015