COVID-19 Operational Status

Following guidance from the White House, Centers for Disease Control and Prevention (CDC), and state and local public health authorities, Guadalupe Mountains National Park is increasing recreational access and services. The National Park Service (NPS) is working service-wide with federal, state, and local public health authorities to closely monitor the COVID-19 pandemic and using a phased approach to increase access on a park-by-park basis.
With public health in mind, the following areas and facilities remain temporarily CLOSED at this time:
The health and safety of our visitors, employees, volunteers, and partners continues to be paramount. Guadalupe Mountains National Park operational approach will be to examine each facility function and service provided to ensure those operations comply with current public health guidance, and will be regularly monitored. We continue to work closely with the NPS Office of Public Health using CDC guidance to ensure public and workspaces are safe and clean for visitors, employees, partners, and volunteers.

While these areas are accessible for visitors to enjoy, a return to full operations will continue to be phased and services may be limited. When recreating, the public should follow local area health orders (cv.nmhealth.org/), practice Leave No Trace principles, avoid crowding, and avoid high-risk outdoor activities.

The CDC has offered guidance to help people recreating in parks and open spaces prevent the spread of infectious diseases. We will continue to monitor all park functions to ensure that visitors adhere to CDC guidance for mitigating risks associated with the transmission of COVID-19, and take any additional steps necessary to protect public health.

Details and updates on park operations will continue to be posted on our website www.nps.gov/gumo and social media channels. Updates about NPS operations will be posted on www.nps.gov/coronavirus.
Recreate Responsibly
As parks make more areas available to the public, the NPS encourages you to follow Centers for Disease Control and Prevention (CDC) guidance to reduce the spread of COVID-19 and follow Leave No Trace principles when you visit.
Know before you go. Visit NPS.gov/findapark for current park conditions and availability of restrooms and other facilities. Make a plan, follow the 10 Essentials, and if you are sick, stay home.
Keep it close. Follow the state and county orders governing the open status of the area you're considering visiting. The National Park Service is working closely with governors and state and local health departments as we increase access and services across the National Park System.
Keep your distance. Recreate with the people in your household. Give others plenty of room whether you are on a trail, at a boat launch, or in a parking lot. Follow the CDC social distancing guidelines for staying six feet away from others. Be prepared to cover your nose and mouth if you're near others.
Know your limits. Postpone challenging hikes or trying new activities while first responders, parks, and communities continue to concentrate on responding to the pandemic.
Keep it with you. If you brought it, take it with you. Trash pickup and restroom facilities will continue to be limited in many park areas . Follow Leave No Trace principles.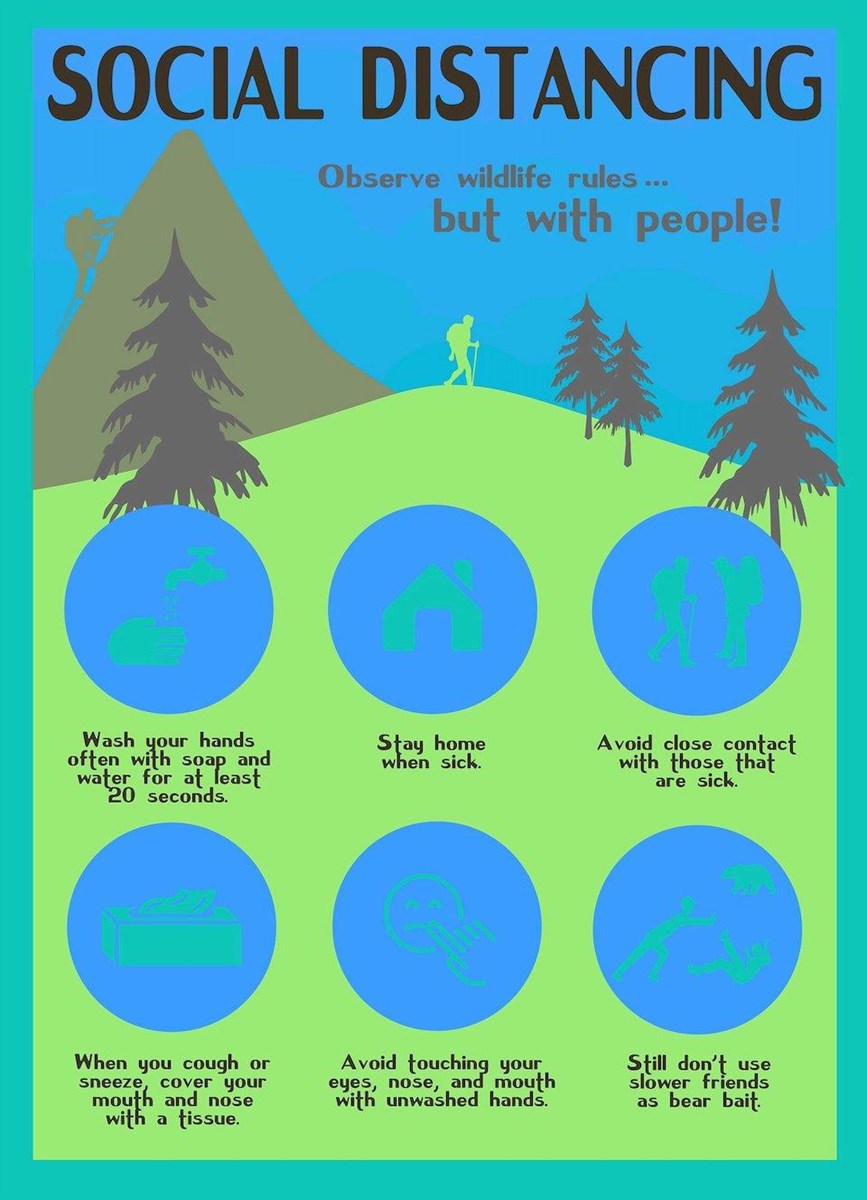 Last updated: November 23, 2020