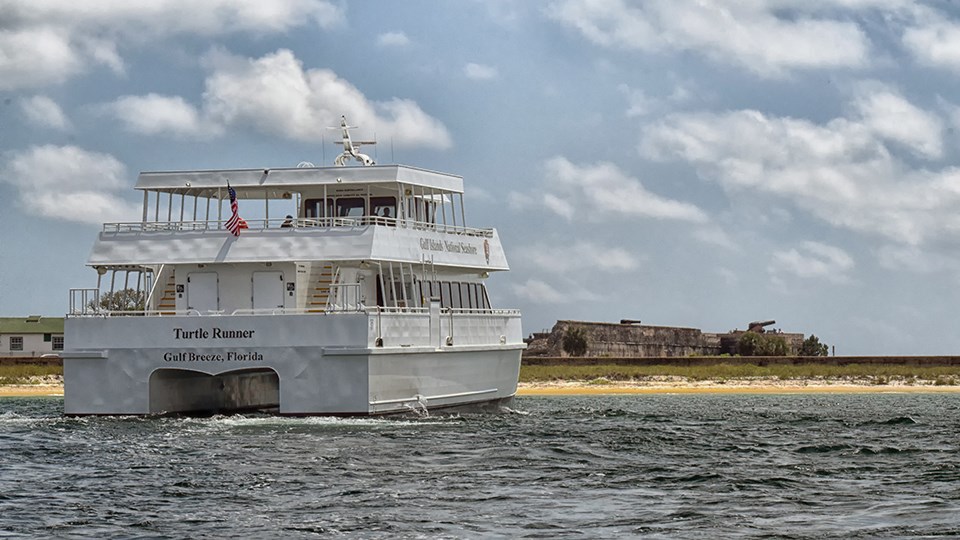 Pensacola Bay Cruises will link downtown Pensacola, Pensacola Beach, and the Fort Pickens Area of Gulf Islands National Seashore by providing passenger ferry service starting on June 22, 2018. Gulf Coast Maritime Services, operating as Pensacola Bay Cruises, a private, nonsubsidised, for-profit company has signed a concessions contract to operate the service. For schedule, prices, ship information, and to purchase tickets visit the Pensacola Bay Cruises website.

Who will operate Pensacola Bay Cruises ?
On March 29, 2018, Gulf Islands National Seashore announced the selection of Gulf Coast Maritime Services, Inc. as the operator of the Pensacola Bay Cruises service. They can be reached at 850-497-6005.

Where will the Pensacola Bay Cruises operate?
The Pensacola Bay Cruises system will operate between the City of Pensacola, Pensacola Beach, and Fort Pickens located at the Gulf Islands National Seashore on Santa Rosa Island.

How long is the ride to each landing location?
Estimated ride time will be 35-45 minutes to each landing location.

What is the schedule?
The first ferry will depart Pensacola at 8:30 a.m. and a minimum of three loops will be completed in each direction daily.

Where can I purchase tickets?
Ticketing, passenger queuing, restrooms, and gateway information will be available at three locations.
The City of Pensacola ferry site is located directly north of the North Basin on Commendencia Slip, the Pensacola Beach ferry site is located at the Pensacola Beach boardwalk at the intersections of Fort Pickens Road and Via De Luna Drive, and the Fort Pickens ferry site is located just north of Fort Pickens at the western end of Fort Pickens Road inside Gulf Islands National Seashore.

How many boats will operate?
Two National Park Service vessels will be operate by a private company under a concession agreement with the National Park Service.

When will the ferry operate?
In 2018, service will operate from June 22 through November 3. It will operate daily from June through mid-August, and Wednesday through Sunday mid-August through mid-September, and on weekends from mid-September through November 3, 2018. Depending on demand and ridership, the schedule may be expanded.

Are vehicles allowed on the ferries?
The ferries will not be able to transport vehicles. Parking will be available at all departure points.

Are the tickets round trip?
The ferry tickets will offer "hop-on, hop-off" privileges, allowing passengers to travel in either direction between the ferry's three endpoints during the day.

Is there a shuttle service?
Seasonally, a free trolley currently runs on Pensacola Beach. Additionally, a tram service will begin at Fort Pickens in conjunction with the ferry service and will run during the same season.

Will food and beverages be sold on the ferries?
The selected concessioner will have the option to sell food and beverages on the vessels.

Are the ferries handicap accessible?
The ferry vessels will be accessible to wheel chairs.

Cost per person?
Adult all day, "hop-on, hop-off" tickets are $20, and several discounts are available.
Can people bring coolers, bikes, beach chairs?
The ferry boats were designed with passenger storage space and bike racks. Storage space on the boats is fixed, so the operator may have to more specifically define the size and quantity of items brought on board by passengers.

What happens if you take the ferry to Fort Pickens and bad weather moves in?
The ferry operator is required to have a Weather Preparedness Plan. The plan will cover the preparedness levels for high winds, rain and thunderstorms, tropical storms and hurricanes, and designate specific actions to be taken.

Are groups allowed to rent the ferry for special events?
The ferry operator is authorized to offer "specialty cruises" outside of the regular ferry schedule if approved by the NPS.

What happens if only a few people want to ride that day? Does it still go? Is there a minimum?
Unless otherwise agreed to by the NPS, the ferry operator must provide a minimum of three complete loops in each direction around Pensacola Bay per day for a total of six arrivals/departures at each location.