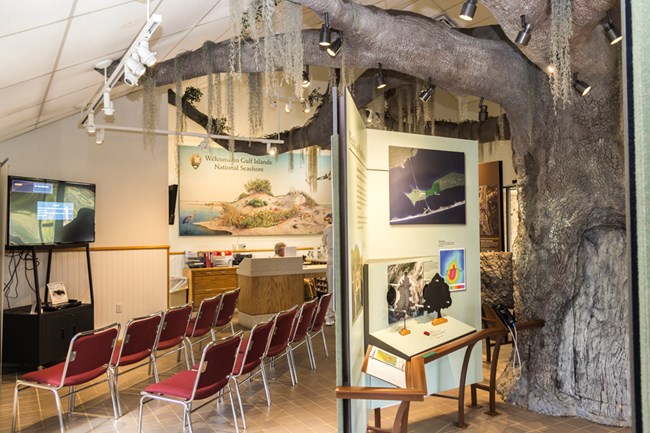 Indoor, hands-on exhibits are available throughout Gulf Islands National Seashore and offer a great way to escape the summer heat.
At park headquarters, visitors can explore exhibits about the Naval Live Oaks Area, and watch a 20-minute orientation film. Park Headquarters is located in Gulf Breeze, Florida and is open Monday through Friday, from 8:30 AM to 4:30.
At Fort Barrancas there is a small visitor center exploring the history of coastal defense on the bluffs of Pensacola Bay. The Fort Barrancas Area is located on board the Pensacola Naval Air Station and is open daily 8:30 a.m. to 4:30 p.m.
At Fort Pickens there an Eastern National Bookstore is located just inside the entrance to the fort. This is a great place for visitor's to start their visit, park rangers and volunteers are on hand to answer questions and provide information. There is also a museum located at the Fort Pickens Area which offers many hands on exhibits and videos on the natural and cultural wonders of Gulf Islands National Seashore. The Fort Pickens Area is located on the western tip of Santa Rosa Island, indoor facilities are open daily from 8:30 a.m. to 4:30 p.m.
The William M. Colmer Visitor Center is an immersive experience for visitors wanting to learn more about the gulf islands off the coast of Mississippi. The visitor center offers hands-on and audio visual exhibits, as well as a 20-minute orientation film. The William M. Colmer Visitor Center is located in the Davis Bayou Area, just east of Ocean Springs, MS and is open daily from 8:30 a.m. to 4:30 p.m.
Call 850-934-2600 or 228-230-4100 for more information.