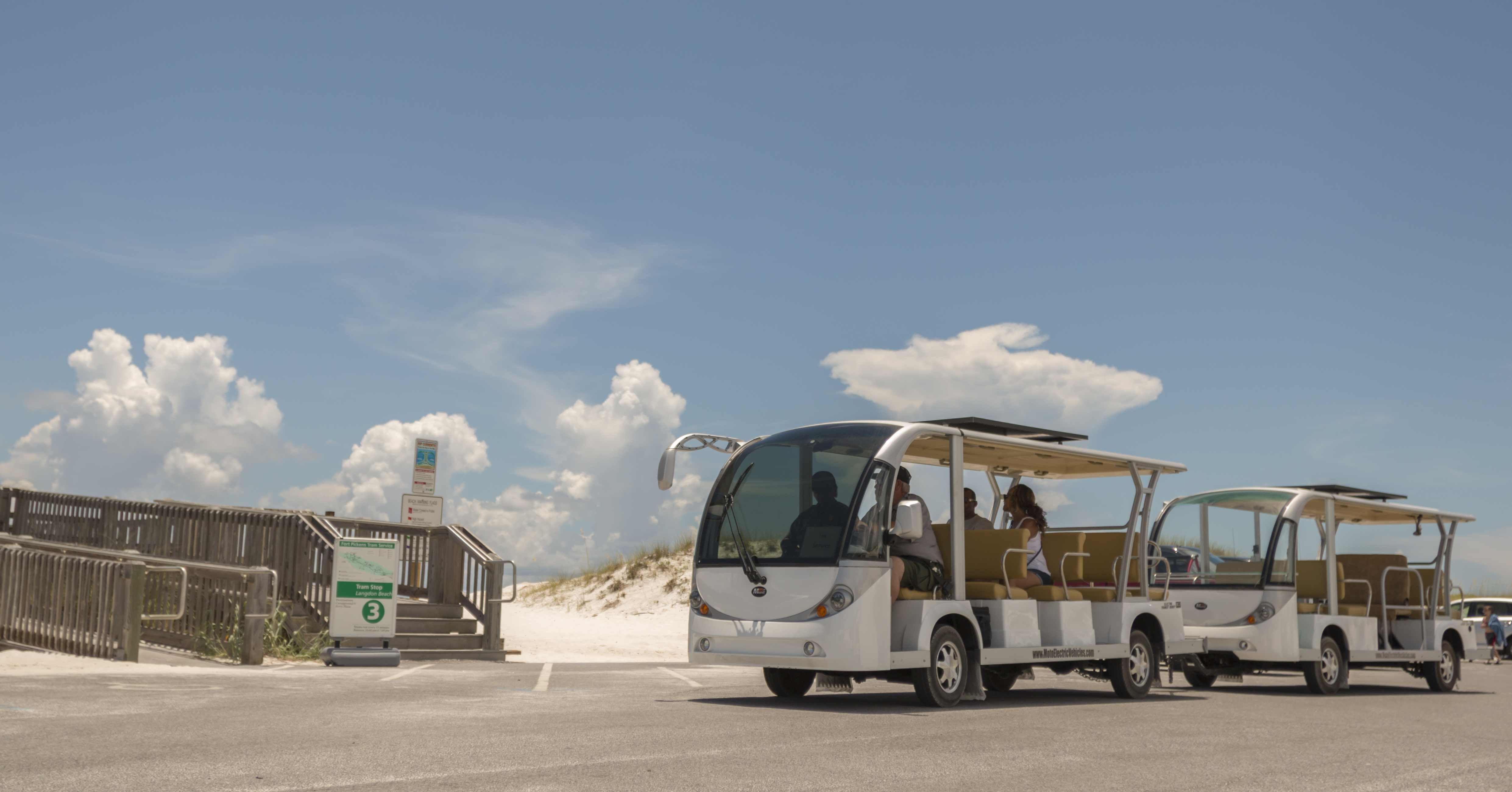 News Release Date:
July 2, 2018
Contact: Brent Everitt, 850-934-2600
Gulf Breeze, Fla. – Gulf Islands National Seashore officials announced that tram service in the Fort Pickens Area will begin operation immediately. The trams will be operated by ITL Solutions of Pensacola, FL, through a service contract and will largely mirror the ferry operating schedule through the end of October of this year.  The service is available for all visitors at no charge and will make stops at the Fort Pickens Ferry Plaza, Campground, and Langdon Beach.

The Fort Pickens tram service will offer ferry passengers and campers a convenient way to access the swim area at Langdon Beach while offering day-use visitors an easy way to move about the park including the Mine Storeroom offering snacks, cold drinks, and ice at the Fort Pickens Ferry Plaza. Trams will stop at each location every 15 minutes between 10 a.m. and 7 p.m. daily through mid-August, and Saturdays and Sundays from August 25 through the end of October.

The new service utilizes electric tram vehicles which can carry 27 passengers and travel at regular park speed limits. The fully accessible vehicles feature solar panels atop each tram to extend the battery charge and drive time between recharging. In preparation for the new service, the Park Service retrofitted historic Battery Langdon for tram storage and recharging. 

Pensacola Bay Cruises began operation on Friday, June 22, offering all-day hop-on, hop-off tickets for cruises to Fort Pickens, Pensacola Beach, and downtown Pensacola. Visitors arriving by ferry to Fort Pickens are not required to pay the park's entrance fee. Gulf Coast Maritime Services, operating as Pensacola Bay Cruises, a private, nonsubsidised, for-profit company is under contract with the National Park Service to provide the service.

About Gulf Islands National Seashore: Created in 1971, the national seashore stretches 160 miles along the northern coast of the Gulf of Mexico in Florida and Mississippi, and includes barrier islands, maritime forests, historic forts, bayous, and marine habitat. Visit us at www.nps.gov/guis, on Facebook www.Facebook.com/GulfIslandsNPS, Twitter www.Twitter.com/GulfIslandsNPS, and Instagram www.Instagram.com/GulfIslandsNPS.

About the National Park Service: More than 20,000 National Park Service employees care for America's 417 national parks and work with communities across the nation to help preserve local history and create close-to-home recreational opportunities. Visit us at www.nps.gov, on Facebook www.facebook.com/nationalparkservice and Twitter www.twitter.com/natlparkservice.
~NPS~