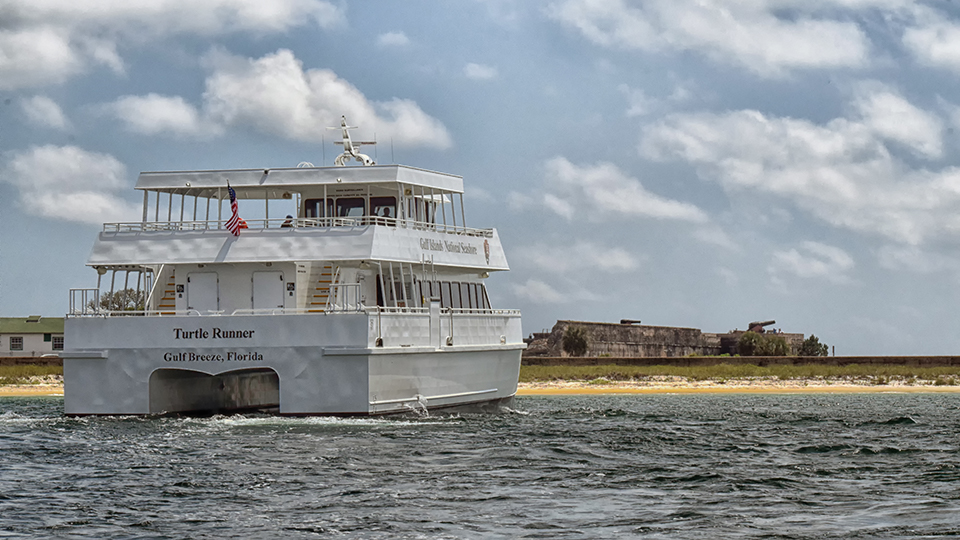 News Release Date:
February 22, 2018
Gulf Breeze, Fla. – Gulf Islands National Seashore expects to announce the selection of an operator for the Pensacola Bay Cruises service in the next 30-60 days. At this time, no operator has been selected and a contract has not been finalized. Until these steps are completed, all information regarding prices, schedules, and services onboard the ferries are tentative.
In its prospectus, released to the public in October 2017, the National Park Service set a ceiling for individual ticket prices and proposed many items including a potential schedule. These particulars will be worked out and agreed upon during contract negotiations between the National Park Service's Southeast Regional Office and the concession operator, once selected. Until that time the following information remains tentative:
Cost per person?

Ticket pricing will be proposed by the ferry operator for approval by the NPS. 
Although a ceiling price has been set at $20 per adult for an all day, "hop-on, hop-off" ticket, the ferry operator may charge lower rates. 
The ferry operator is required to offer large group discounts, and may offer other discounts. 
Annual passes and seasonal rates are possible, but unknown at this time.
Children under the age of 3 will ride for free.

Can people bring coolers, bikes, beach chairs?

The ferry boats were designed with passenger storage space and bike racks. Storage space on the boats is fixed, so the operator may have to more specifically define the size and quantity of items brought on board by passengers. Coolers are a typical item allowed on the NPS concession operated ferry to West Ship Island in Mississippi.

What happens if you take the ferry to Ft. Pickens and bad weather moves in?

The ferry operator is required to have a Weather Preparedness Plan. The plan will cover the preparedness levels for high winds, rain and thunderstorms, tropical storms and hurricanes, and designate specific actions to be taken.

Are groups allowed to rent the ferry for special events?

The ferry operator is authorized to offer "specialty cruises" outside of the regular ferry schedule if approved by the NPS. If they are using one of the two NPS-owned ferry boats, the excursion must enter park waters during the trip and operate during park operating hours. 
What happens if only a few people want to ride that day? Does it still go? Is there a minimum?

Unless otherwise agreed to by the NPS, the ferry operator must provide a minimum of three complete loops in each direction around Pensacola Bay per day for a total of six arrivals/departures at each location. 

The NPS has provided the ferry operator with a proposed schedule. Provided visitor needs for ferry transportation are addressed, the ferry operator may propose a different operating schedule for NPS review and approval. 

There will be six arrivals and six departures at each location.
The NPS received multiple responsive offers in January 2018 for the Pensacola Bay Cruises service. Theses offers have been evaluated by a panel of experts, not employed at Gulf Islands National Seashore. Per the contracting process, legal review will be completed followed by NPS Regional Director review and selection. Once this selection is made, Gulf Islands National Seashore will be informed.
The ferry boats will be taken out of dry dock in April and undergo final inspection and sea trials by the U.S. Coast Guard. Once completed, operations will begin; the national seashore anticipates this being completed in time for a May 18, 2018 start date.
The selection of a concessioner for the Pensacola Bay ferry service is a critical milestone in preparation for the ferry service to begin in early 2018. "We're excited to select a concessioner for the Pensacola Bay Cruises service, and to start finalizing operational decisions with them once selected," said Superintendent Dan Brown. The concessioner will be responsible to provide passenger ferry service between Fort Pickens, Pensacola and Pensacola Beach.  Two NPS owned 150-passenger double-decker catamaran ferry boats will assigned to the concessioner to provide the service. In 2016, local fourth graders named the ferries Turtle Runner and Pelican Perch. 
About Gulf Islands National Seashore: Created in 1971, the national seashore stretches 160 miles along the northern coast of the Gulf of Mexico in Florida and Mississippi, and includes barrier islands, maritime forests, historic forts, bayous, and marine habitat. Visit us at www.nps.gov/guis, on Facebook www.Facebook.com/GulfIslandsNPS, Twitter www.Twitter.com/GulfIslandsNPS, and Instagram www.Instagram.com/GulfIslandsNPS.
About the National Park Service: More than 20,000 National Park Service employees care for America's 413 national parks and work with communities across the nation to help preserve local history and create close-to-home recreational opportunities. Visit us at www.nps.gov, on Facebook www.facebook.com/nationalparkservice and Twitter www.twitter.com/natlparkservice.
~NPS~