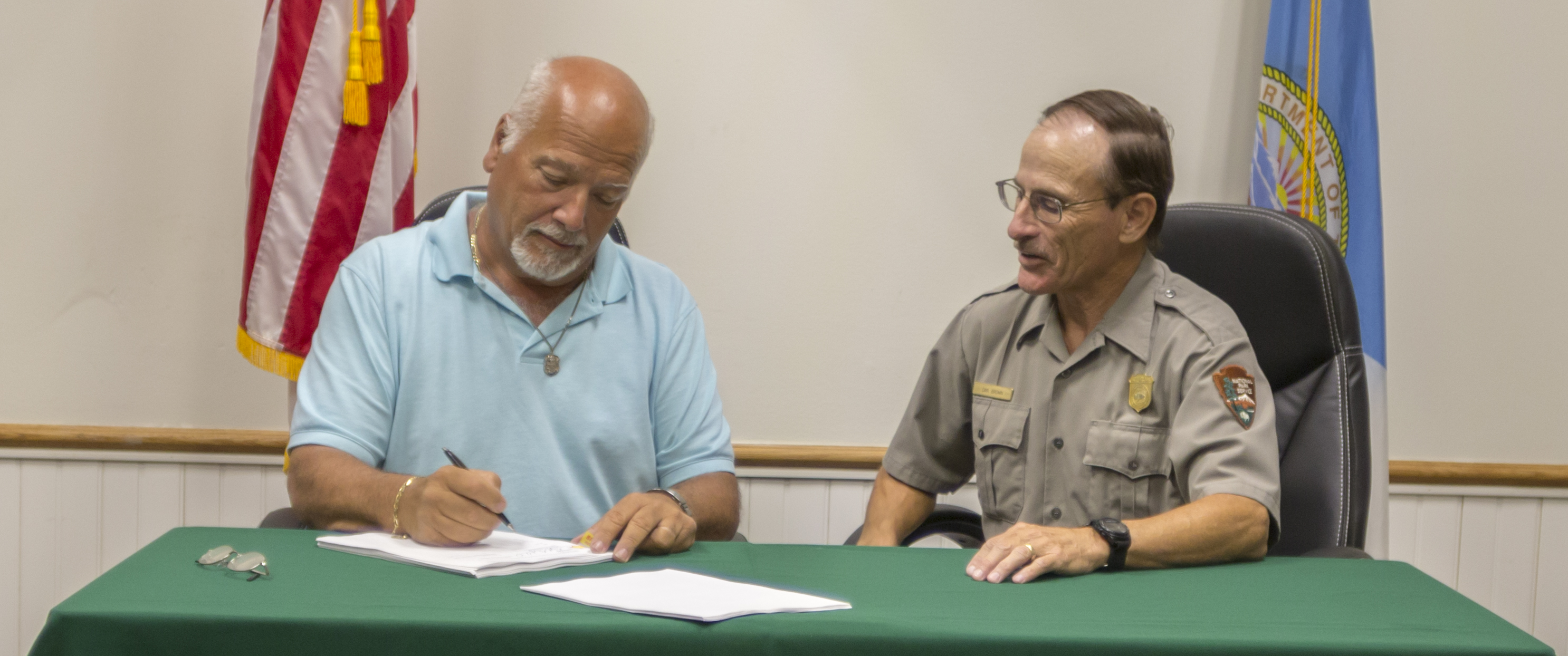 News Release Date:
June 13, 2018
Contact: Brent Everitt, 850-934-2600
Gulf Breeze, Fla. – The National Park Services and Gulf Coast Maritime Services, Inc. signed a contract for the operation of Pensacola Bay Cruises, bringing the service within days of welcoming its first passengers. The two 150-passenger double-decker catamaran ferry boats have been assigned to Gulf Coast Maritime Services, Inc. for the duration of the contract.  Gulf Coast Maritime Services, operating as Pensacola Bay Cruises, a private, nonsubsidised, for-profit company has announced they will begin service on Friday, June 22.

As a private business, Pensacola Bay Cruises will have the responsibility to announce specific prices and schedules as approved by the National Park Service. Tickets for regular service will be all-day hope-on, hope-off, and discounts will be offered for children, military, seniors, groups, and frequent riders. Visitors arriving by ferry to Fort Pickens will not be required to pay the park's entrance fee.

"We're excited to start working with Gulf Coast Maritime Services, Inc. and begin the Pensacola Bay Cruises service," said Superintendent Dan Brown.  In 1978, Gulf Islands National Seashore's original General Management Plan called for the establishment of a ferry service in Pensacola Bay. With help from the City of Pensacola and Escambia County and through numerous local, state, and federal funding sources, including damages paid by BP to the Deepwater Horizon Natural Resource Damage Assessment Trustees to mitigate for impacts the 2010 Deepwater Horizon oil spill had on public access to and recreational use of local beaches and waterways, infrastructure and vessels were secured over the last six years. The culmination of these efforts, 40 years in the making, is a new service that will provide the community and visitors a brand new way to experience the exceptional marine resources of Pensacola Bay and provide an alternative transportation option between Pensacola, Pensacola Beach, and Fort Pickens.

Gulf Coast Maritime Services, Inc. currently operates the ferry at Cape Lookout National Seashore and has years of experience working with the National Park Service. The national seashore and its partners are confident they will bring an experienced and capable team to operation at Gulf Islands National Seashore.

About Gulf Islands National Seashore: Created in 1971, the national seashore stretches 160 miles along the northern coast of the Gulf of Mexico in Florida and Mississippi, and includes barrier islands, maritime forests, historic forts, bayous, and marine habitat. Visit us at www.nps.gov/guis, on Facebook www.Facebook.com/GulfIslandsNPS, Twitter www.Twitter.com/GulfIslandsNPS, and Instagram www.Instagram.com/GulfIslandsNPS.