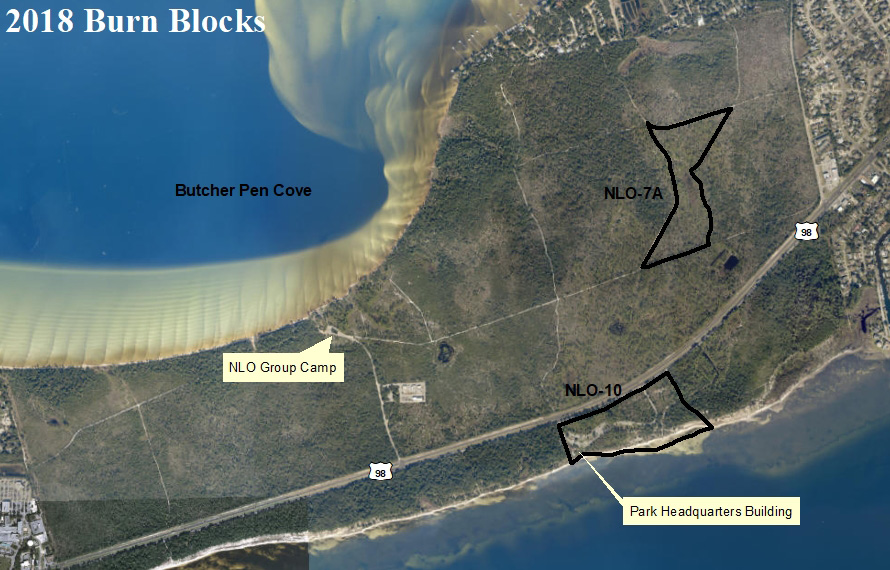 News Release Date:
March 6, 2018
Contact: Brent Everitt, 850-934-2600
Gulf Breeze, Fla. – Gulf Islands National Seashore officials announced plans to conduct one to two  small controlled burns within the Naval Live Oaks (NLO) Area near Gulf Breeze, Florida. Longleaf pine areas of Naval Live Oaks depend on regular fire to maintain this ecosystem type, which is important for gopher tortoises and many other species.
The national seashore has developed small burn blocks, to mitigate potential road impacts.  Ground ignition will be used to limit smoke and help provide maximum control of the burn areas. The seashore is also incorporating meteorological data, and will only conduct the burn when very specific conditions are met.
Recent wildland fire seasons have been extreme, serving as a reminder that fire is a natural process and proactive measures can diminish the possibility or prevent wildfires from spreading. Introducing fire into the system, through the seashore's prescribed fire program can help curtail the risk to life, property, and resources in the event of a wildfire from a lightning strike or incidental human causes. Beyond preventative measures, fire can benefit wildlife and their habitat.
Controlled burns may occur sometime during the period of March 6, 2018 through March 17, 2018. However, burns will only take place if specific conditions exist, and the proper personnel are present. The exact date and time for the prescribed burns will be primarily dependent upon weather factors. Once a date for the prescribed burn is selected, an additional press release will be issued, the park's website will be updated, and information will be posted on electronic reader boards placed along Highway 98 within the park boundary. Officials expect that due to humidity levels, burning will most likely begin around 10:00 a.m. and end by around 4:00 p.m. on the day(s) of the burn.
About Gulf Islands National Seashore: Created in 1971, the national seashore stretches 160 miles along the northern coast of the Gulf of Mexico in Florida and Mississippi, and includes barrier islands, maritime forests, historic forts, bayous, and marine habitat. Visit us at www.nps.gov/GulfIslands, on Facebook www.facebook.com/GulfIslandsNPS, Twitter www.twitter.com/GulfIslandsNPS, and Instagram www.Instagram.com/GulfIslandsNPS.

About the National Park Service: More than 20,000 National Park Service employees care for America's 417 national parks and work with communities across the nation to help preserve local history and create close-to-home recreational opportunities. Visit us at www.nps.gov, on Facebook www.facebook.com/nationalparkservice and Twitter www.twitter.com/natlparkservice.